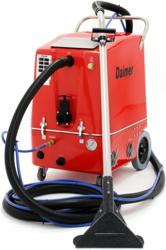 Daimer® is excited to launch a machine with temperatures as high as 210ºF and pressure levels up to 500 psi to let cleaning professionals maintain carpets easily and effectively. The XTreme Power® XPH-9600 offers fast drying technology ...
Woburn, MA (PRWEB) January 16, 2013
Daimer Industries, Inc.®, the globally reputed American brand and supplier of a wide range of cleaning equipment for most applications within over 240 nations, and offering portable carpet steam cleaners, commercial carpet cleaners, industrial truck mount carpet cleaners, deep cleaning carpet shampooer systems, and many other technologically enhanced machines, is now shipping to colleges and universities its most powerful, mobile carpet cleaner, the XTreme Power® XPH-9600. The system features very long hoses, low flow technology, completely adjustable pressure levels, ultra-high temperatures, and many more advanced features. The machines offer exceptional cleaning results with rapid drying times of approximately two hours against up to 24 hours with van mounted steam cleaners.
Daimer®'s own Modular System Design™ (MDS™) and Self-Maintenance Engineering™ (SME™) are incorporated into each machine. Now users globally can easily replace a component by themselves in the rare care it is necessary. Parts are readily accessible, no professional service is needed, and machines do not need to be shipped to a repair facility. Other brands require higher maintenance and hands-on specialized repairs.
"Maintaining large areas of carpeting in schools becomes an extremely difficult task when cleaning experts use low-grade machines," states spokesperson for Daimer Industries, Inc.®, Matthew Baratta. "Daimer® is excited to launch a machine with temperatures as high as 210ºF and pressure levels up to 500 psi to let cleaning professionals maintain carpets easily and effectively. The XTreme Power® XPH-9600 offers fast drying technology, and achieves the highest temperature, pressure, and suction that can be run off electricity. Janitorial workers can use the equipment at any time during the day and rest assured the carpets will be absolutely clean and ready for traffic relatively quickly."
The XPH-9600 carpet steam cleaners feature two powerful inline heating elements that allow the machine to generate high temperatures within only five minutes. The equipment can easily handle tough commercial cleaning applications, given its high pressure levels. The system's exclusive Adjustable Temperature Control™ (ATM™) technology allows operators to set manipulate temperatures according to the particular carpet fiber material and construction.
The XTreme Power® multi-use floor steam cleaner includes Daimer®'s Self-Adjusting Water Regulating™ (SAWR™) technology, and can be run in a self-contained mode for operating independently of water for an extended period of time. The heat-optimized carpet extractor system's automatic fill and automatic dumping features allow operators to maximize their productivity in the best way possible. The special functionality allows the machine to automatically refill itself with clean water, and force the dirty water into a toilet or drain. The operators only need to connect garden hoses to the machine and focus solely on cleaning.
Daimer®'s XPH-9600 commercial carpet cleaners feature high-powered vacuum motors and come with extra-long 100' hoses that allow users to can clean over a 30,000 sq. ft. area without even moving the machine. The hoses can be divided into four sections of 25' each, or else joined together for the maximum length, depending upon the cleaning application. The versatile carpet cleaning machines are ideal for those who cannot buy high-grade truck mount carpet cleaners due to schools' financial constraints, and yet want power-packed equipment and superior cleaning results at the lowest price possible. Users can operate the equipment as a professional upholstery cleaning machine purchase an optional 4" wand for cleaning upholstery, carpeted stairs, office cubicles, and more.
Truck mount machines use large quantities of water that substantially increase the drying time, unlike the XTreme Power® XPH-9600 carpet cleaners that dry carpets rapidly. Unfortunately, long drying times significantly increase the risk of mold and mildew formation. Typically, truck mounts require the use of drying systems while the 9600 machines do not.
Daimer®'s carpet cleaning machines come with its patented XTreme-XTraction™ wand technology that reduces the drying time further by providing 60% more extraction than alternative wands on the market. In addition, the carpet steam cleaners offer water column lift of 250 inch and airflow of 100 CFM to further enhance cleaning power and faster drying.
The company bundles its carpet cleaners with its concentrated Eco-Green® Carpet and Upholstery Care solution that is completely soap-free and plant based, leaving absolutely no residue behind. Carpets stay cleaner substantially longer than when harmful, soapy chemicals are applied to surfaces.
For Additional Information:
Learn more about the XTreme Power® XPH-9600 by visiting the company's website or call Matthew Baratta directly at (888) 507-2220. The machine is exported to most countries worldwide.
About Daimer Industries, Inc.®:
Daimer Industries, Inc.® is the leading supplier of more than 700 models of highly advanced machines like commercial carpet cleaners,high-quality portable steam cleaner machines, vapor steam cleaner equipment, floor cleaning systems, pressure washers, and others with exclusive patented technologies.