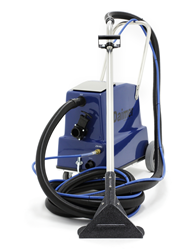 Daimer® is thrilled to launch a machine that can handle the routine carpet cleaning tasks in bed and breakfast inns easily. The XTreme Power® XPC-5700 carpet shampooer features ...
Woburn, MA (PRWEB) May 06, 2013
Daimer Industries, Inc. ®, the world's leading American supplier of carpet extractor machines, versatile floor cleaning equipment, vapor-rich steam vacuum cleaner, and more, is now offering the XTreme Power® XPC-5700, easily portable, powerful, easy-to-use, non-heated carpet cleaning equipment.
The machine is the best carpet cleaner for commercial cleaning tasks that require faster drying times, such as the daily maintenance of carpets and upholstered furniture in bed and breakfast inns. The carpet extractor generates pressure levels of 120 psi and supports water heated up to 140ºF. The machine weighing merely 55 pounds and is easy to transport for cleaning professionals, as it fits in a SUV or a car.
"Guests visiting a bed and breakfast inn expect a clean environment for a relaxed stay. Dirty carpets and upholstery do not only disgust customers, but also spoil an inn's reputation," says Matthew Baratta, Daimer Industries, Inc.® spokesperson. "Daimer® is thrilled to launch a machine that can handle the routine carpet cleaning tasks in bed and breakfast inns easily. The XTreme Power® XPC-5700 carpet shampooer features the company's Low Flow™ technology that reduces water usage and dries carpets within just six hours, as compared to low-grade machines from other brands that offer a drying time of 24 hours."
Daimer® is the globally reputed brand of multi-purpose carpet cleaner systems and other cleaning machines with exclusive technologies. More than 700 models of different types of technologically-advanced cleaning machines have been launched until now and are being supplied to customers in hundreds of nations. Daimer® is an expert in product design and development. Its machines have simple designs and are, therefore, preferred by most industries nationally and internationally.
Long term success and business from new and repeat travelers and guests are greatly dependent on neat and well-kept accommodations. Rooms with damp and dirty carpets and upholstery create foul odors and even trigger allergies in the ones with allergies and chemical sensitivities. The XTreme Power® XPC-5700 offers terrific carpet cleaning benefits. The machine comes standard with the 12 inch patented, adjustable carpet cleaning wand for efficient cleaning, and for maintaining upholstery, customers can purchase an optional 4 inch upholstery wand. With this smaller wand, the XPC-5700 becomes excellent interior car wash equipment.
Moreover, Daimer® is offering for free two gallons of its Eco-Green® Carpet Care & Upholstery Cleaner during promotions. The completely plant-based and soap-free concentrate is environmentally safe, posing no threat humans or pets. The carpets, when pre-sprayed with this solution, remain cleaner for longer time periods. Two gallons of this concentrate can be diluted to make 64 gallons of the solution. The solution leaves no residues and gets extracted immediately during the carpet cleaning process.
The XPC-5700 features Daimer®'s patented XTreme-XTraction™ wand technology that extracts the cleaning solution and dirt after cleaning. The suction power of the 12" head attached at the end of a wand is equivalent to using another vacuum motor. The superior-quality carpet extractor offers 60 percent greater extraction power than other wands in the industry. Apart from the easy-to-use XTreme-XTraction™ technology, the XPC-5700 carpet cleaner also features a powerful two stage motor that generates 100" water lift and an air flow of 100 cfm.
Daimer®'s XTreme Power® machines are considered as the best carpet cleaner systems in the industry, as they feature smartly engineered, simple designs, and are easy to maintain. All of the company's widely-used rug shampooer machines include its Modular System Design™ (MDS™) and Self-Maintenance Engineering™ (SME™) technologies that make the replacement of parts extremely easy for its customers. The portable carpet cleaning equipment does need not be sent to a repair facility or back to the company, as users can change a part themselves, when required in extremely rare cases. Daimer® machines are durable and its parts are made of rugged materials for the ultimate in reliability and longevity.
For Additional Information:
To gain more information about the XTreme Power® XPC-5700 carpet cleaning equipment call Matthew Baratta at (888) 507-2220 or visit Daimer®'s official website. The machines are shipped to over 240 countries across the globe.
About Daimer Industries, Inc.®:
Daimer Industries, Inc.® is the worldwide renowned supplier and brand of cleaning machines, such as carpet cleaner systems, steam vacuuming machines, vapor steamers, gum removal machines, pressure cleaners, tile and grout cleaners, and auto detailing systems. The machines are used for virtually all types of commercial cleaning requirements. The company's technologies are ideal for efficient and quick car washing, grease removal, commercial carpet cleaning, maintaining restaurant kitchens, cleaning hospitals or doctors' offices, cleaning heavy machinery in food service industries, and regular residential cleaning tasks.