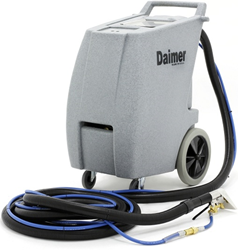 Daimer® is very excited to launch the XTreme Power® XPH-9300U, a portable carpet extractor that features a 4" tool for eliminating many kinds of dirt, stains, and odors from fabric upholstery ...
Woburn, MA (PRWEB) May 31, 2013
Daimer Industries, Inc.®, the most renowned brand of U.S. manufactured, robust cleaning systems, such as high-quality carpet cleaner systems, auto carpet cleaner systems, vapor-enriched steam vacuum cleaner systems, and many other technologies designed for virtually all kinds of commercial and industrial cleaning requirements, is debuting the XTreme Power® XPH-9300U for health club maintenance. The XPH-9300U, which offers remarkably high temperatures up to 210º F, includes a 17 gallon solution tank and a 15 gallon recovery tank. The machine allow users to clean nonstop for extended periods of time for maximum productivity.
"Gymnasiums, fitness centers, and health clubs are ideal breeding grounds for germs and bacteria. Fungi, skin cells, human hair, and dirt are generally found on carpets and upholstered furniture in health clubs," says spokesperson for Daimer Industries, Inc.®, Matthew Baratta. "Daimer® is very excited to launch the XTreme Power® XPH-9300U , a portable carpet extractor that features a 4" tool for eliminating many kinds of dirt, stains, and odors from fabric upholstery effectively. Daimer® customers can also purchase an optional 12" carpet wand with excellent suction power for cleaning large carpeted floors with ease. The company is proud to contribute towards the health and well-being of health clubs' members"
Daimer® is the popular supplier of cleaning machines with innovative and advanced technologies . The unique features of Daimer® machines, which exceed over 700, offer quality cleaning results quickly. The machines are exported to over 240 nations worldwide, and are used in most industries. Durability, high cleaning power, reliability, versatility, and easy maintenance are a few factors that make Daimer® machines the most highly ranked on the web. Many large organizations trust in Daimer® machines when it comes to the best cleaning results.
Floor carpets within locker rooms often develop foul odors. The XTreme Power® XPH-9300U carpet cleaning machines from Daimer create high temperatures within five minutes, given the system's powerful inline heating elements. High temperatures help remove various dirty deposits on carpets with ease. The cleaning capability of the high-quality carpet shampooer machines increases when users pre-spray the carpets with Daimer®'s Eco-Green® Carpet Care & Upholstery Cleaner, which is a plant based, soap free formula.
The solution is safer than the harmful chemicals that are widely used by cleaning professionals. The chemical gets extracted immediately and leaves no residue to attract dirt. In addition, Daimer®'s Low Flow™ technology, included with all of its carpet cleaning machines, reduces water usage to as low as two hours. The easy-to-use carpet cleaning equipment, with two powerful two-stage motors, also offers a 150 inch water column lift and a 200 CFM of airflow for maximum cleaning power and minimum drying time.
Carpets that dry quickly are at a low risk of mold formation. The cleaning staff in health clubs need to maintain the carpets on a regular basis and ensure carpets dry quickly. Aside from cleaning health clubs, the XPH-9300U is an effective car wash equipment. The carpet shampoo machines come with long 25' hoses for extra convenience during its use within the facility, auto detailing, and other applications for which cleaning can be performed without continually moving the machine.
Carpets comprised of different materials can be maintained with the same carpet cleaner extractor. The best carpet cleaner features the company's Advanced, Adjustable Temperature Control™ technology that allows operators to easily adjust the temperature as per the type of carpet fibers. Delicate carpets made of natural fibers should be cleaned with cold water. While maintaining such carpets, users can simply disable heat. For fast cleaning and the ultimate in productivity, the powerful portable carpet extractor also features easy recovery chamber drainage.
For Additional Information:
Visit the company's official website or call Matthew Baratta at (888) 507-2220 and discover more about the XTreme Power® XPH-9300U carpet cleaner extractor. Daimer® ships its machines to hundreds of countries all across the world.
About Daimer Industries, Inc.®:
Daimer Industries, Inc.® is the world-famous supplier of highly-professional carpet cleaning machines, power-rich pressure cleaner systems, innovative hard surface cleaners, vapor-maximized steam cleaners, powerful gum removal systems, many smartly-designed floor cleaning equipment. The machines are used for a variety of cleaning applications, such as health clubs and hospital sanitization; commercial kitchen maintenance; cleaning large carpeted areas in hotels; heavy industrial machinery cleaning; tile and grout cleaning; high-powered concrete cleaning ; machine shop equipment degreasing; upholstered furniture cleaning; grease removal; pest control in restaurants; ice dam removal; bus washing; construction equipment cleaning; and many more.