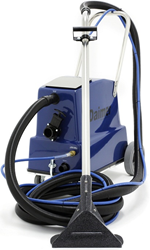 Daimer® is excited to unveil a portable carpet extractor that can rescue even some of the worst of carpets. The XTreme Power® XPH-5900I's technologies and features make it stand above the rest in the industry ...
Woburn, MA (PRWEB) May 11, 2013
Daimer Industries, Inc.®, the world renowned company that supplies 700+ models of productivity-enhancing carpet cleaning machines, such as high-tech auto carpet cleaner systems, and other machines, has launched the XTreme Power® XPH-5900I, the most powerful commercial carpet cleaner in the company's 5000 series. The system generates temperatures of up to a noteworthy 210º F within only 5 minutes, as it comes equipped with two powerful inline heating elements. Heat dissolves the most stubborn deposits and makes the maintenance of carpets in law offices easy.
"Typically, many law offices choose to cover large areas, such as meeting rooms and board rooms, with expensive wall-to-wall carpets to create an elegant look for the benefit of clients. Larger expanses of carpeting can be maintained only with high-end machines that come bundled with quality accessories," states Matthew Baratta, spokesman of Daimer Industries, Inc.®. "Daimer® is excited to unveil a portable carpet extractor that can rescue even some of the worst of carpets. The XTreme Power® XPH-5900I's technologies and features make it stand above the rest in the industry. The machine efficiently steam cleans and carpets while offering quick drying times for fresher and cleaner carpeting."
Professional cleaning is required for eliminating stains, deposits, and help prevent mold and mildew from carpets. The XTreme Power® XPH-5900I steam carpet shampoo machines can maintain all types of carpets, as they feature Daimer®'s Advanced, Adjustable Temperature Control™ technology that helps the user adjust the temperature of the machine. Cleaning experts recommend turning off heat while maintaining delicate carpets made of natural fibers. The technology helps ensure the safest, most appropriate temperature is used for particular carpet fibers.
Another important technology that makes the XPH-5900Iheated carpet cleaner extractor system ideal for professional use is Daimer®'s Low Flow™ technology reduces water usage and accelerates the drying time. Carpets can be cleaned and ready to walk on within a short period of time with these efficient carpet shampoo machines, as they dry the carpets within merely two hours. The machine's XTreme-XTraction® wand technology and its water lift of 100 inch and air flow of 100 CFM also greatly contribute to rapid drying times.
The 12" wand offers high extraction power, which is similar to adding another vacuum motor. No other wand in the industry can even come close to the suction power offered by this wand. These top-rated commercial carpet cleaner machines are best for law offices, cleaning businesses, or the ones who require machines that offer high cleaning power and enhanced user productivity. The XPH-5900I carpet cleaning machines can also be purchased with the optional upholstery and staircase wands for maintaining upholstered furniture and carpeted stairs in offices. The 2400 watt machine is easy to transport, as it weighs just 59 lbs.
The advanced portable carpet extractor generates an outstanding pressure level of 170 psi, which is more than other heated carpet cleaner extractor systems in its class. High pressure helps in thorough cleaning large carpets. The long 25' hoses, which are bundled with the XTreme Power® XPH-5900I, can clean up to 2000 square foot area without even moving the machine. Such long hoses make the job quite convenient for the law offices' cleaning staffs.
Daimer®'s carpet cleaning machines also come bundled with its Eco-Green® Carpet Care & Upholstery Cleaner concentrate that helps remove most stains from carpets with ease. The company is offering for free two gallons of this solution with all its high-performance carpet cleaners, during promotions. The eco-friendly liquid keeps the carpets clean while posing no health threats to those with allergies or chemical sensitivities. Pre-spraying this solution on carpets and letting it dwell for a few minutes helps clean the carpets more effectively than placing the liquid into the water chamber. The XPH-5900I's XTreme-XTraction® wand extracts the solution without leaving any residues behind, resulting in cleaner carpets. The extracted solution can be easily disposed of in a toilet with the machine's easy recovery chamber drainage feature.
Among other technologies included in Daimer®'s carpet wash systems, the Modular System Design™ (MDS™) and Self-Maintenance Engineering™ (SME™) technologies hold equal importance. These technologies allow for easy replacement of parts, when needed anywhere in the world.
For Additional Information:
Extra details about the XTreme Power® XPH-5900I carpet wash can be obtained by visiting the company's official website or by contacting Matthew Baratta at (888) 507-2220. The machines are exported to over 240 nations globally.
About Daimer Industries, Inc.®:
Daimer Industries, Inc.® is the worldwide reputed supplier of technologically-modern cleaning machines, including multi-functional auto carpet cleaner systems, hard surface cleaners, mobile automobile cleaning machines, gum removal systems, and many more. The machines can manage virtually all kinds of commercial cleaning tasks, including grease removal, hospital sanitization, or carpet maintenance in hotels.