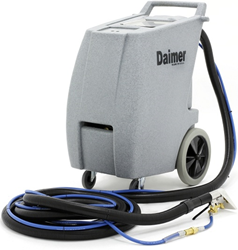 Daimer® is extremely proud to contribute towards improving the appearance of buses by launching a machine that makes the maintenance of public transport buses and other vehicles easy. The XTreme Power® XPH-9300U ...
Woburn, MA (PRWEB) February 07, 2013
Daimer Industries, Inc.®, the globally reputed American brand of industrial machinery with in excess of 700 models, including commercial carpet cleaner systems, turbo-charged truck mount carpet cleaners, auto carpet cleaner equipment, high pressure car wash equipment, portable carpet extractor machines, and other professional auto detailing and non-vehicle related technologies, is now shipping the XTreme Power® XPH-9300U, a carpet wash system with a rapid drying time of within one hour. The XPH-9300U carpet shampoo machines feature the company's Low Flow™ technology that offers an eco-friendly way of maintaining vehicle upholstery and carpets by reducing water usage.
The company's pro carpet cleaning machines are best for transit authorities, which have to inspect, service, and clean vehicles used for high volume passenger flow on a daily basis. Fast drying times help in quick maintenance of seat upholstery and carpets in vehicles, like buses, on fix schedules that cannot be delayed.
"Maintenance staffs of transit authorities are on tight schedules and have to clean all the buses thoroughly on a regular basis. They cannot afford to use low-grade machines offering poor cleaning results that can be obvious eyesores to passengers and workers alike. Only the best machines with superior technologies can help remove food and dirt deposits quickly and effectively," states spokesperson for Daimer Industries, Inc.®, Matthew Baratta. "Daimer® is extremely proud to contribute towards improving the appearance of buses by launching a machine that makes the maintenance of public transport buses and other vehicles easy. The XTreme Power® XPH-9300U pressure optimized carpet cleaner comes with a 4 inch upholstery wand that is specially designed to help eliminate food deposits, beverage spills, and other dirt buildup from vehicles' seat covers and carpets."
Daimer®'s XTreme Power® XPH-9300U carpet shampoo machines generate temperatures as high as 210ºF within only 5 minutes, as these machines are equipped with two powerful inline heating elements. The pressure level of 220 psi, generated by the XPH-9300U, is higher than other carpet cleaner extractor machines in its class. The presence of large 17 gallons solution tank and 15 gallons recovery tank, and easy recovery chamber drainage makes the maintenance professionals' job even easier by offering non-stop cleaning for a longer duration.
Daimer®'s exclusive technologies, integrated in its portable carpet extractor systems, improve the performance of its machines and make them especially versatile. The company's Advanced, Adjustable Temperature Control™ (ATC™) Technology, for example, allows the XPH-9300U commercial carpet cleaner machines to clean carpets made of different fibers, as it allows operators to adjust the temperature flow according to the cleaning applications. While cleaning carpets made of natural fibers like wool, users can turn off the heat to avoid any kind of damage to the carpets.
The XPH-9300U is not only high-grade auto detailing equipment, but can a conventional carpet cleaner when an optional carpet wand is attached to it. Customers can even purchase staircase wands for maintaining carpeted stairs. The XPH-9300U carpet cleaning machines feature Daimer®'s patented XTreme-XTraction™ wand technology that increases the suction power of the machine by 60 percent. The extraction capability of the machine is similar to using an additional vacuum motor. The machine comes with 25' long hoses that can clean as much as a 2000 sq. ft. area. While using the system for conventional carpet cleaning, the presence of long hoses saves considerable time, since users do not need to move the mobile car wash equipment very much.
Daimer®'s Modular System Design™ (MDS™) and Self-Maintenance Engineering™ (SME™) are two of the company's very important technologies that allow users to replace a part themselves, in the very rare case it is needed. The robust professional carpet cleaners have simple designs and the parts are easily available, unlike most brands that offer machines with complex designs that require professional service.
Daimer®, during its promotions, is also supplying two gallons of its Eco-Green® Carpet Care & Upholstery Cleaner free of charge with all of its carpet cleaner extractor models. The company advises users to pre-spray carpets and upholstery with this soap free liquid for better cleaning results. Two gallons of this concentrate is enough for 128 quart spray bottles and can clean up to 64,000 sq. ft. of carpeting and upholstered surfaces. Using Eco-Green® solution poses no threat to the health of the anyone with physical ailments. The solution gets extracted on an immediate basis, leaving clean and fresh surfaces.
Additional Information:
Learn more about the XTreme Power® XPH-9300U by visiting the company's website or by contacting Matthew Baratta directly at (888) 507-2220. The carpet cleaning machines are exported to most countries worldwide.
About Daimer Industries, Inc.®:
Daimer Industries, Inc.® is the world's leading supplier of cleaning machines with advanced technologies. Some of the machines offered by the 100 percent American company include truck mount carpet cleaners, versatile mobile car wash machines, steam vacuum cleaning systems, gum removing equipment, hard floor cleaners, tile and grout cleaners, automobile detailing systems, and more. The machines are shipped to more than 240 countries, and can handle virtually all kinds of commercial cleaning applications.