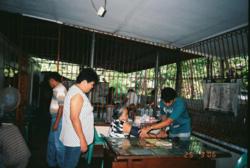 Campbell, CA (Vocus/PRWEB) June 04, 2011
Green Restoration, located in Bay Area, is donating 25 percent of its invoice totals for the summer to fundraising projects in the entire Bay Area of San Francisco, San Jose, and Santa Cruz County. They will donate the funds to projects in the corporate setting, churches, and schools.
"Giving back to the community is a great way to express our appreciation for our customers and the community," said Alfred Gelacio, CEO of Green Restoration. "It is important for us to give back every chance we get."
By donating 25 percent of their invoice totals, Green Restoration can create more funds for childrens' projects. Many of the services offered by Green Restoration Services, such as carpet cleaning, are subject to the 25 percent donation. With an average carpet cleaning price of $150 to $400 for a single home, they will donate 25 percent of that to the fundraising project which will be an average of $30 to $100 in donations. The company also specializes in tile and grout cleaning, steam cleaning, upholstery cleaning, home cleaning and mattress cleaning.
Green Restoration's owner, Alfred Gelacio, has been doing charity work by supporting libraries, giving out scholarships, and participating in medical missions back in his hometown in the Philippines. Green Restoration is organizing this fundraising project as a way to give back to the community, which has always been one of the major commitments of the company.
For more information about Green Restoration, contact them at 866-5-Carpet or visit them on the web at http://www.bayareagreencarpetcleaning.com.
About Green Restoration
Green Restoration offers an eco-friendly alternative to get carpets professionally cleaned without exposing family, children and pets to possibly harmful cleaners. We will leave client's carpets clean and their homes fresh without having to pay extra for it.
# # #