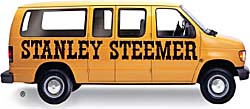 San Francisco, CA (PRWEB) November 23, 2011
San Francisco carpet store Stanley Steemer is now offering the new Magic Fresh odor-reducing carpet. They are also offering $200 off any new carpet installation of more than 1,000 square feet or $1.99 per square foot. The discount and special rate is valid only through December.
Beaulieu, the makers of Magic Fresh, uses proprietary and exclusive materials applied to the carpet fibers during the manufacturing process to give the carpet its Magic Fresh capabilities. When unpleasant odors come in contact with the carpet fibers, the Magic Fresh application neutralizes the offending odors and releases them into the air as harmless carbon dioxide.
Magic Fresh designers describe how the new carpet works, saying "the effectiveness of Magic Fresh is best understood by comparing it to the way baking soda neutralizes odors in your refrigerator, except with Magic Fresh, you don't have to replace the box!"
Magic Fresh was tested using the two most common odor complaints in the home – pet urine and cigarette smoke. Tests show the effective odor reduction at 30-minute intervals when comparing a carpet featuring Magic Fresh and a non-treated carpet. After 90 minutes the measured improvement when using Magic Fresh was 80.8% for pet urine and 90.0% for cigarette smoke.
For more information on San Francisco carpet installation store, Stanley Steemer, call (415) 503-9720 or visit them online at http://www.stanleysteemer.com. Stanley Steemer is located at 1500 Michigan Street, San Francisco, CA 94124.
About Stanley Steemer
Stanley Steemer is a premium carpet store in San Francisco offering a variety of residential and commercial services including carpet installation, carpet sales, carpet cleaning, grout and tile removal, hardwood floor refinishing and water damage restoration. They carry polyester, nylon and olefin carpets from the leading mills such as Shaw, Mohawk and Beaulieu of America. As a local carpet store in San Francisco, they rank above the rest for their reliable, effective and affordable carpet installation and cleaning services with years of repeat clientele utilizing their services.
###