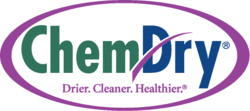 Chem-Dry has created a unique cleaning process that dries in about 2 hours
Seattle, WA (PRWEB) August 08, 2011
Chem-Dry has created a unique system that uses carbonation to clean as opposed to the detergent-water mixture used for shampooing by carpet cleaning services. With this cleaning process carpets typically dry within 2 hours. Traditional shampooing methods can take up to 2 days to dry allowing time for mold growth to occur.
This increases child safety, especially for babies and toddlers who spend most of their time crawling and playing on the floor. The quick drying time allows for furniture to be moved back into place on dry carpets, eliminating the opportunity for mold to grow under china hutches, nightstands, etc.
In addition to eliminating the risk of mold from excess water, this unique cleaning process does not leave detergent residue on carpets. Chem-Dry is a superior carpet cleaning option for those with families, allergies or both. Their patented cleaning technology drastically reduces the chance that mold will grow on all carpets, keeps carpets cleaner longer and helps keep families healthy and happy.
About
Dander and Daughters Chem-Dry of Seattle has been an independently owned and operated Chem-Dry franchise for nearly 20 years. They serve Lake City, North East Seattle, West Seattle, South Seattle, Ballard, and Crown Hill.
###