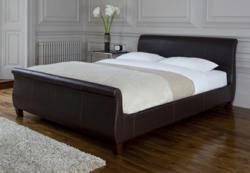 (PRWEB UK) 24 July 2012
As bed companies have got more advanced and bed building techniques have improved the scope, size and functionality of what bed frames can offer, knowing which ones to buy has become more complex. Choosing a bed more or less comes down to deciding between having a single bed or double and what features it might need to include.
In addition to this it is important to consider whether a bed matches the decor of a room. The finish of a bed frame may be the difference between blending perfectly with the decor of a bedroom that is cool chic or ending up as odd and mismatched.
Getting the Right Bed Size
Understanding the sizes of beds available will ensure the right choice is made. The standard bed size rankings for the UK and Europe are as follows:
Single bed (36 x 75in): For small rooms single beds are often the most viable option, ensuring maximum use of space. Like the name implies single beds are only really functional for one person.
Double bed (54 x 75in): standard double beds are the smallest option for two people, so if a double bed is needed that still doesn't take up too much room this should be an option.
Queen bed (60 x 78in): Queen beds are substantially bigger than a standard double bed frame and are ideal for couples who are looking to upgrade and have a bit more space.
King/Super King bed (72 x 78in): The biggest size of bed available. The width of a king size bed dwarfs that of a double by almost 20 inches. The extra room is noticeable if rooms can accommodate it.
Bed Functionality
Bed size is one thing but often people need beds to have additional features. Fortunately bed design and technology has progressed enough to a take such needs into account.
Divans: Divan beds are a popular choice because of their dual functionality. Because of the drawers slotted into a divan bed it is possible to increase the storage of a room with little fuss and hassle. Divan beds come with one to four drawers and these vary from end drawers to a slide store. For maximum storage capacity one can even turn the whole underside of a bed into a drawer with an Ottoman style divan.
Adjustable beds: Adjustable beds are ideal for those who have back problems and may have issues getting in and out of bed. Some medical conditions render people unable to sleep in a straight position and an adjustable bed can assist with this problem.
Picking the Right Style of Bed Frame
Depending on the look and decor of a room, the look of a bed frame might be an important factor in the decision making process. If the room is traditionally decorated with muted colours then a wooden bed frame may be the best choice.
If the style of a bedroom is more modern and the colours are bright and vibrant opt for a metallic frame instead that compliments the decor.
About Carpetright
Carpetright offer a range of small double beds for those rooms which are more suited to that size than the full double. If space is at a premium in the bedroom then a divan bed is perfect and we have small double divans with a number of drawer options, giving plenty of storage solutions which have no additional footprint.
Small double divans are also suitable for those sleeping alone but wanting more space than that offered by a single bed. So if more space is a must, and a full sized double makes you feel lost, then a small double could be just what you're looking for.
In terms of comfort our range of small double divans includes beds from our Prestige and Cashmere Supreme ranges. All of these mattresses have over 1000 pocketed springs, meaning your body is given maximum support and a partners movement is not likely to affect your side of the bed.
Visit your local store to view our extensive bed collection or visit Carpetright.co.uk for the best bed advice and more including viewing our bed buying guides in our Information Centre and browsing our bed collections.