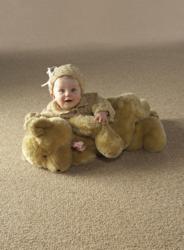 (PRWEB UK) 17 August 2012
Carpet cleaning and maintenance is one of those essential housekeeping things everyone should do to keep their flooring look wonderful and last a long time. Different styles of carpet can require different treatments and cleaning regimes to keep them looking their best for longer.
Buying and Maintaining Carpet
To ensure the life, durability and the continuous great appearance of your carpet at home, it needs to be taken care of. Buy carpet that is practical and can withstand daily use – especially in high traffic areas. Households with children should consider installing soft carpets in bedrooms, living rooms and bathrooms for comfort, while high traffic areas where kids trample up and down or spill things should consider hardwearing, stain resistant carpets. Once this fairly practical decision is made, then it is a question of regular care.
What is the best way to clean a carpet? - is a fairly frequent question and interior stylist Diana Civil provides a few answers to this with some top tips in her 'how to care for your flooring' video. Find information on carpet care and instructions on how to maintain appearance online at Carpetright online or in store.
Maintaining Different Types of Carpet
With a beige carpet or any other colour, take great care of any chemicals you choose. Never use bleach to clean a carpet stain as it will cause discolouration or rot the material. In case of a stain or spills of liquid, it should be blotted clean to soak it up. Avoid scrubbing the carpet as this can damage the carpet pile.
Vacuuming two to three times a week is good practice anyway, but to keep your carpet looking fantastic - aim to have the carpet professionally cleaned once a year as this will do a deep clean on the carpet and get rid of any remaining nastiness.
Berber carpet is quite different to other carpets because of its dense weave of rugged looped pile. Avoid brushing berber carpet and any heavy brushing or using a beater bar as these methods can snag the carpet loops and possibly even pull off a complete line of looped pile, damaging your carpet beyond repair.
Traditionally wool is the most popular carpet and regular vacuuming will keep it free from dust and dirt, but also keep it from flattening or losing its brilliant appearance. A new wool carpet may shed slightly - but don't worry because after it is vacuumed the first few times, its short excess fibres will stop shedding completely. Wool is naturally dirt-resistant with a thin water-repellent layer which makes it easier to remove dry dirt by vacuuming or greasy dirt with detergents.
One of the biggest concerns for cleaning carpet is spills and stains. When the accident arises, use white cloth or even paper towels to absorb most of the moisture. Remember to blot the carpet and not to rub it so that you don't damage it. Start from the edge and work inwards in order to prevent spreading. If a stain remains – it is advisable to find a stain remover formulated to handle the stains you have. Carefully rinse the area with water and again blot your carpet with a cloth or paper towel until it is dry.
Watch Diana Civil's video on how to care for your flooring online now.
About Carpetright
As Europe's leading floor retailer, Carpetright stocks a wide selection of flooring products including carpet, rugs, laminate and vinyl flooring. If you're looking to carpet your whole room or simply add a simple yet effective touch to your floor, why not visit carpetright.co.uk or your local store today to find out how we can transform your floor.
Also, did you know that Carpetright now sell beds? View our collection of divan beds, mattresses and bedroom furniture online.