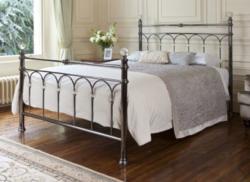 (PRWEB UK) 17 August 2012
Often a choice of bed reflects a particular stage in one's life. Sharing a bed with a significant other makes size, space and storage a necessity for comfort as much as perhaps keeping the peace! With increasing years in age also comes more aches and pains thus an even greater need for support for the body while sleeping. Europe's leading flooring experts, Carpetright, who also specialise in beds and mattresses now stock a new range of beds to cater for every member of the family; from fun and colourful children's beds to a fancy double bed for a first home.
Choosing a Children's Bed
Most of us move on to small children's beds after a cot bed, so purchasing a fun and colourful bed frame that grab kids' attention which is also sturdy enough to cope with jumping sessions of bed bouncing is a good option. For large families struggling for living space, bunk beds are ideal and can really make a room look larger and give more room for playing. However, if the problem is clutter then getting kids beds with compartments and built-in shelves will provide the place to keep children's toys and books organised and out of the way.
Single Beds and Double Beds
It is probably a good idea to think about getting a new bed before kids' feet are hanging off the end of their beds. A single bed for teenagers is all that they may need, but as they get older it only takes a glance at a friend's bigger and better double bed for jealousy to kick in. Unlike mums whose eyes have likely already raided the bed store and pinpointed the wooden bed frame that will match the colour and design of all the other furniture in the house, teens may have ideas for more modern alternatives.
King Size Bed and Super King Size Bed
When children jump in to sit in bed with their parents on a morning, bed space becomes real estate that could be fought over. Installing a king sized bed will give more than enough to share with all the family. Bed storage is just as important as a mattress – especially if a partner has taken up most of the wardrobe space. Double divan beds, like beds with optional drawers, give plenty of space to put away bed linen and more. Divan beds give extra storage, so could be ideal to put in any spare room.
One third of an average person's life is spent in bed asleep, so finding the right one for different stages of our life is important and need for comfort and design do change. Luxury for one person – such as a super king size bed may not suit another, who may prefer something less flash with more support, such as a memory foam mattress that moulds itself to body shapes and give exceptional comfort.
Bearing in mind the time people spend asleep and different support needed, choosing the right bed and mattress should be personal and time should be taken to get the choice right. One bed size does not fit all generations.
About Carpetright
As Europe's leading floor retailer, Carpetright stocks a wide selection of flooring products including carpet, rugs, laminate and vinyl flooring. If you're looking to carpet your whole room or simply add a simple yet effective touch to your floor, why not visit http://www.carpetright .co.uk or your local store today to find out how we can transform your floor.
Also, did you know that Carpetright now sell beds? View our collection of divan beds, mattresses and bedroom furniture online.