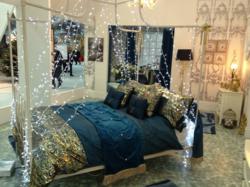 (PRWEB UK) 23 November 2012
Christmas is the time to be jolly and many of us will start festivities by putting up the Christmas decorations. The living room is often a priority as the first room to be transformed, but is this simply to impress guests more than ourselves? Why not bring Christmas into the master bedroom as well - so that the festive spirit can continue to be enjoyed throughout the home and in private?
Shared here is some inspiration from the dreamy-themed bedroom interiors that Laurence Llewelyn-Bowen showcased this year at the 'Ideal Home Show at Christmas'.
The motto; 'start from the ground up' is a good place to start as we want to ensure that the bedroom looks absolutely fantastic from top to bottom. To create that crucial base or canvas from which to compose the interior, start by choosing the ideal bedroom carpet, and then build on that to bring about a bespoke Christmas bedroom style.
The 'Naughty' Bedroom Interior
Put aside any thought of being added to Santa's naughty list. To create the 'naughty' themed bedroom interior pick seductive colours such as lavish reds and purples then add exquisite patterns of flowers and modern shapes. To achieve the naughtiness of a 'sexy bedroom' add some contrasts in texture, for example install a faux leather bed - its soft leather feel is sensuous to the touch and sure to impress, add that to some velvety Christmas decor to craft the most inviting of bedrooms. To finish it off with a little extravagance - just like Bowen install a glorious gold Christmas tree in the room that will simply exude glamour.
The 'Nice' Bedroom Interior
Prefer something more angelic? Then go for an eloquent combination of blues and whites as a Christmas colour scheme mimicking a winter wonderland.
From the bed to the Christmas tree use white tones as the core colour. Choose from a selection of heavenly bed frames from Carpetright that are sure to provide exquisite comfort and add a snow effect. Both metal beds and wooden beds have the white finish and both of which fit perfectly into this 'nice' angelic bedroom theme.
Now think soft and fluffy - imagine a winter movie scene - without the chill, surrounded by snow and beautiful ice sculptures, now aim to recreate this type of feel within the bedroom. Using a few fairy lights - like Bowen it is possible create a white Christmas in the bedroom that will fire up any ones imagination.
Finally, complete the heavenly scene with a Christmas tree covered in pretend snow with a scattering of silver and blue Christmas decorations.
Naughty or nice – which are you? Why not have some fun and turn your bedroom into a personal dreamland this season.
About Carpetright
As Europe's leading floor retailer, Carpetright stocks a wide selection of quality flooring products including carpets, rugs, laminate flooring and vinyl flooring. We also sell a fabulous range of beds from top brands; view our collections of divan beds, bed frames and comfortable mattresses online.
For carpeting your whole room or simply adding a simple yet effective touch to transform an interior, why not visit carpetright.co.uk or a local store today to find how we can help transform your floor.