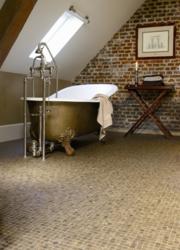 (PRWEB UK) 18 October 2012
Like most things, caring for your possessions helps to maintain their life and usefulness. So, when installing or moving a new refrigerator or washing machine, take extra care to avoid damage to the floor and always make sure to protect it first. Here are some useful tips for caring for your vinyl floor.
Vinyl Floor Care
Vinyl flooring has many advantages. It is durable, water resistant and super easy to maintain. It comes in a variety of designs which means that anyone can create flooring that looks like real wooden flooring or even mosaic or stone flooring, all with affordable vinyl. To keep it looking perfect though, make sure to maintain it without damaging it.
It is always recommended to vacuum and often clean the flooring to keep it looking great. Vinyl can easily be maintained by surface cleaning it with fresh water, as using strong chemicals will damage its protective layers.
Kitchen and Bathroom Vinyl Maintenance
As vinyl is also waterproof, bathroom vinyl flooring is a popular choice amongst home owners. However, be sure to remove excess moisture immediately and remove spills as quickly as possible to avoid stickiness. Ventilate the bathroom well too to ensure that moisture will not damage the vinyl. Strictly no bleach either because discolouration of the flooring is a certainty.
Similarly with kitchen vinyl flooring, do not use chemicals or even soap when mopping the floor. By often removing dirt and grit with a broom, the homeowner will be able to maintain the vinyl's look because when dirt accumulates it starts to scratch the floor. By simply adding a rug by the garden door, one can prevent unnecessary soiling within the home.
Also, If a kitchen sees a lot of action, where cooking is in constant progress, keep in mind that avoiding extreme heat is desirable. This will ensure that whatever the vinyl, it will not burn or fade. Constant heat can also discolour the beautiful designs of the flooring, so being sensible while cooking is always advantageous.
Comfortable and Practical Cushion Flooring
Furthermore, long-lasting, durable flooring is perfect for big families and cushioned vinyl flooring is no exception. It is ultra-soft underfoot and therefore comfortable enough for children and pets to wreak havoc around the home. It is a hardwearing practical cushioned floor that is ultra-comfortable and still has all the best qualities of vinyl.
So, if a home owner is to go for a new invention and choose modern vinyl flooring, do not use modern technologies such as vacuums with beater bars to keep it clean because it will scratch the surface for sure. Finally, be sure to keep all vinyl away from extreme exposure to light, as over time this may discolour the vinyl. We recommend using blinds and nets to protect it.
Vinyl flooring is without a doubt a great value for the designs and practicality that you receive from it. It is a foundation that is ideal for nearly every part of the home and can last for decades if looked after properly. It really is an investment worth maintaining.
About Carpetright
As Europe's leading floor retailer, Carpetright stocks a great selection of flooring products including carpets, rugs, laminate flooring and vinyl flooring. To carpet the whole room or simply add a simple yet effective touch to the floor, why not shop on-line at carpetright.co.uk or visit a local store today and get inspirational ideas and advice to transform your floor and interior.
Also did you know Carpetright sell beds and mattresses? View the collection on-line today.