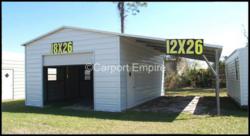 Both certified and uncertified models of carports and garages are available at Carport Empire
Live Oak, Florida (PRWEB) August 03, 2012
Carport Empire, one of the United States' leading suppliers of versatile car covers, is offering carports and garages at very attractive prices as well as easy financing plans. The company strives to provide installed carports at the best cost per-square-foot. Customers can benefit from a high quality metal car cover perfectly tailored to meet specific requirements. Offering strong all-weather protection, all the carport models that this company offers are constructed from sturdy material.
Besides protecting vehicles from extreme weather conditions, carports and garages also guard vehicles from falling debris. Carport Empire offers various models of durable single, double and triple metal car ports, RV covers, and car canopies. The metal carports include steel and aluminum structures. The enclosed steel garages include metal buildings with roll-up doors, steel structures with lockable doors, and units with a lean-to carport.
Both certified and uncertified models of carports and garages are available at Carport Empire. If opting for a carport, the customer can choose from different colors, sizes and roofing styles. If required, the structure can be customized to store farm equipment or to function as a shady spot for a get-together. The customer can choose from roof and eave styles such as A-frame roof with boxes/rounded eaves or vertical paneled roof, and door and window options such as roll-up doors or fixed windows and doors.
One of the most important attractions of shopping at Carport Empire is its easy financing plans for customers.
"Financing your new single carport, double carport, triple carport, steel building or carport garage is a breeze when you buy from Carport Empire. We can arrange financing options on the purchase of an automotive carport, utility carport, motor home carport, boat carport or steel carport garage," says a company spokesperson.
Apart from customized options, "Buy Now" packages are available for carports and garages. Shipping and installation is provided for customers anywhere in the 48 Continental U.S. states.
About Carport Empire
Based in Live Oak, Florida, Carport Empire is a reliable distributor of "built to last" carports, storage buildings, car canopies, pole barns, and garages. Shipping and installation of these structures is done for free. The company offers competitive financing plans. More information about Carport Empire's inventory of carports and garages is available at http://www.carportempire.com.
Location and Contact Information
Carport Empire
405 11th St. Suite 201
Live Oak, FL 32064
Ph: (800) 985-7678