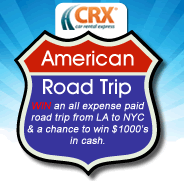 This will be an adventure of a lifetime for two lucky travelers
(PRWEB) May 18, 2012
Car Rental Express is excited to announce they have extended their contest entry submission period for the American Road Trip Contest until May 31. The contest, which includes the chance to win $2,000 and a 14-day, all expenses paid road trip adventure for two from Los Angeles to New York City, will now accept entries until the end of May.
"The entries we've received up until this point have been extremely creative," says CRX spokesperson Stan Levy. With that being said, Levy reminds applicants that they must complete the full online application in order to be eligible for the prize. "It's important to note that the contest requires more than just a name and address."
Creativity and social media smarts are what will set an entry apart from the pack – contest finalists will be selected by the public using social media voting tools from June 1 to June 30th. To enter, simply visit the Car Rental Express Facebook page at http://www.facebook.com/CarRentalExpress and click on the "American Road Trip" button.
1. Completely fill out the entry form.
2. Upload a photo of yourself, with your vehicle and a noteworthy landmark.
3. Write why you are best suited to win this amazing prize (at least 100 words, please)
Need some inspiration to get started on your entry? Check out an entrants YouTube photo montage of a great American road trip:
http://www.youtube.com/watch?v=9M0KlC_Krdw&feature=youtu.be
To view other entries, click here: https://apps.facebook.com/contestshq/contests/188454/voteable_entries?view_entries=1
After Public Voting determines the finalists, CRX judges are looking for original, thought provoking, funny and/or interesting stories that clearly explain why you're a road-tripping warrior. The lucky winner is required to share their experience with the CRX online community during their cross country adventure. As Levy explains, "we're hoping that the winner will take our entire CRX family along for the ride via photos, videos and status updates."
Winners have two weeks to drive from LA to NYC any way they wish during July or August. Winners will be driving a 2012 Toyota Corolla provided by Super Cheap Car Rental of California. The only requirement is that they check in (both online and in person), to a minimum of 10 CRX agencies along the way. Each stop at a CRX location will earn the duo a $100 prize. Other prize perks include transportation for 2 to L.A., 14-nights hotel accommodation, a 14-day premium car rental and a 14-day food and gas allowance and return from N.Y.C. "This will be an adventure of a lifetime for two lucky travelers."
The American Road Trip Giveaway is open to persons residing in Canada and the United States who are at least 21 years of age. To view entries, or to submit your story, click on the banner at the top, when you visit Car Rental Express online at http://www.carrentalexpress.com.
About Car Rental Express
Car Rental Express (CRX) is the only car rental website dedicated to independent car rental agencies and mid-tier franchisees. CRX agencies have a global renter base in excess of 250,000 unique visitors each month. Agencies are Renter Rated by consumers just like you, to help others select the price and agency that best suits their needs.
http://www.carrentalexpress.com
http://www.expressitech.com
About Contest Car Rental Sponsor - Super Cheap Car Rental
Super Cheap Car Rental provides cheap, long-term car rentals to professionals, foreign travelers and students in the Los Angles, San Francisco, San Jose and Orange County Areas. A family owned and operated business, Super Cheap prides itself on giving you the TOTAL price up-front (including all taxes, and coverage).
http://www.supercheapcar.com