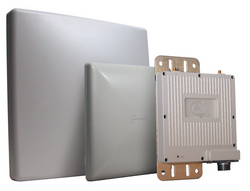 We really have tried about everything on the market and we use Trango equipment more than anything else for a reason -- the gear just works!
San Diego, CA (PRWEB) September 18, 2008
Trango Systems (formerly known as Trango Broadband Wireless), leading global developer of high-capacity licensed and unlicensed fixed wireless microwave communication systems, will exhibit its latest products in stand 4 at Carrier Ethernet World Congress (CEWC) September 22-25, at the Maritim ProArte Hotel in Berlin, Germany. Trango will also exhibit at WiMAX World Americas (booth 527) September 30 through October 2 at McCormick Place in Chicago, Illinois, where the company will present a complimentary full day of wireless technical certification training at the Hilton Chicago on October 2.
At these internationally oriented shows Trango will feature three highly versatile point-to-point product lines. Trango microwave systems are designed to deliver high-capacity wireless IP (Internet Protocol) bandwidth for a wide range of carrier Ethernet applications including 2G/3G/4G mobile/cellular backhaul, WiMAX backhaul, and enterprise wireless network extensions, including leased line DS1/DS3/OC-3 replacement.
The first is the license-exempt 5.x GHz multi-band TrangoLINK-45™, an IP-native wireless Ethernet bridge that is approved for operation in Europe and other world regions that adhere to the ETSI (European Telecommunications Standards Institute) standards, including Australia, New Zealand, and the Asia Pacific Rim. The highly adaptable TrangoLINK-45™ is also available in versions that are approved for operation in Canada (Industry Canada certified), United States of America (USA Federal Communications Commission certified), and other international markets (OEM models).
The two other product lines highlighted will be Trango's carrier-class licensed microwave backhaul solutions, TrangoLINK® Apex and TrangoLINK Giga®, both of which are currently available in FCC frequencies of 6, 11, 18, and 23 GHz, and will soon also be available in 15 GHz. Beginning this fall, both product lines will become available in ETSI standard versions, starting with 23 GHz and 11 GHz models. Both licensed microwave backhaul solutions feature ultra-low latency performance (as low as 100 microseconds (µS) or .10 milliseconds (ms)), with exceptionally high packets-per-second (PPS) rates (as many as 1 million PPS), making them ideal for bandwidth intensive data transport, especially for time-sensitive triple play traffic such as voice-over-Internet-Protocol (VoIP), mobile broadband, video streaming and broadcast. The all-outdoor Ethernet-native RF microwave radio, TrangoLINK® Apex, delivers up to 366 Mbps of full duplex bandwidth (730+ Mbps aggregate) and has several exclusive features including Hitless Adaptive Modulation, optical fiber interface, real-time RSSI digital LED display, and support for hot standby 1+1 link protection with Rapid Port Shutdown (RPS). The split-architecture RF microwave link system, TrangoLINK Giga®, delivers up to 310+ Mbps of full duplex bandwidth (620+ Mbps aggregate) and is both Ethernet-native and TDM-native featuring four Gigabit Ethernet ports (10/100/1000BaseT) and eight E1/T1 ports.
Zachary R. Murray, Vice President of QX.net, an enterprise network integrator and Internet service provider in Kentucky, said, "We have several TrangoLINK-45s, which work so perfectly well -- these units are truly the most efficient and reliable units in the 45 megabit class. In all honesty, Trango Ethernet bridge platforms have provided enough evidence over the years to bring me to this conclusion -- our clients have seen higher uptimes and a greater level of QoS than what dedicated land line technology has delivered." Murray continued, "We really have tried about everything on the market and we use Trango equipment more than anything else for a reason -- the gear just works!"
Using Orthogonal Frequency-Division Multiplexing (OFDM) technology, TrangoLINK-45™ delivers up to 45 Mbps of usable data throughput. Some of the features include Quality of Service (QoS), VLAN support, Dynamic Frequency Selection (DFS), Automatic Transmit Power Control (ATPC), Adaptable Rate Modulation, and Auto RF RX Threshold for superior interference mitigation. The multi-band feature provides a choice between multiple frequencies within the 5 GHz range (5.2, 5.3, 5.4 or 5.8 GHz) in the convenience of one radio. This allows network operators an unprecedented level of operational flexibility in high noise floor areas. The DFS feature allows automatic detection of radar signal interference and dynamically switches to a clear channel while operating in the 5.3 and 5.4 GHz frequency bands, thus providing greater signal integrity and data rate reliability.
TrangoLINK-45™ comes in three different antenna options including two models that feature integrated dual-polarity patch panel antennas (19 dBi and 23 dBi), with the third model featuring two connectors for a higher gain dual-polarity external dish antenna. All models feature software-selectable antenna polarity, eliminating the need for on-site physical adjustment of antennas.
About WiMAX World and Carrier Ethernet World Congress (CEWC)
These two popular trade events draw a largely international audience focused on carrier fixed and mobile telecommunications services as well broadband access network operators and broadcasters. Carrier Ethernet World Congress (CEWC) in Berlin is central located in the heart of Europe and draws executives from all surrounding regions including Eastern Europe, Western Europe, and Scandinavia, as well as other worldwide regions of the Middle East, Asia, North and South America, and Africa. WiMAX World Americas is the world's largest wireless and mobile broadband event focused solely on WiMAX. It is held in Chicago, IL, USA--a tier-1 hub for international travelers--and draws its audience from the same global regions as CEWC, North and South America, Eastern and Western Europe, Middle East, Asia, and Africa.
In addition to WiMAX World and CEWC shows, Trango will be exhibiting at several other trade events around the world including GITEX Technology Week (booth Z-L20) October 19-23 in Dubai, United Arab Emirates; WCA International Symposium & Business Expo (booth 202) November 4-6 in San Jose, California; and AfricaCom (booth C13c) November 18-19 in Cape Town, South Africa.
About Trango Systems
Trango Systems, Inc. is on the forefront of innovation in developing high-capacity carrier class microwave communication solutions in licensed and unlicensed frequencies for both point-to-point and point-to-multipoint wireless transmission systems. Trango specializes in long-range licensed wireless backhaul for carriers and operators that require both Ethernet/IP traffic as well as traditional TDM traffic with E1/T1 connectivity. Other applications include unlicensed secure wireless backhaul, enterprise LAN/WAN extensions, wireless IP video surveillance systems, municipal data and public safety networks, high-speed broadband Internet access, and more. The privately held corporation is headquartered in Poway, San Diego, CA where it conducts product development, manufacturing, marketing and distribution activities. Product specifications and details are subject to change. For more information, visit trangosys.com.
Trango Contact:
Robert Rusnak
Marketing Communications Manager
(858) 391-0010, ext. 252 (T)
media@trangosys.com
# # #