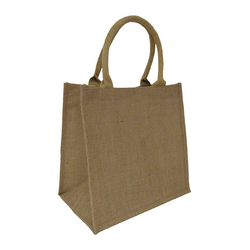 It is important that our new range of cotton, jute, and organza bags are produced ethically, and really are environmentally friendly so we visited the factories in India to insure they have a robust Corporate Social Responsibility Policy
(PRWEB) March 2, 2010
London based packaging supplier Carrier Bag Shop are working with factories and suppliers in India and the Sub Continent to develop a new range of Eco-friendly, Cotton, Jute, and Organza Bags.
London based packaging supplier Carrier Bag Shop have recently announced a great new range of Cotton Bags and Jute Bags in response to the growing demand for eco-friendly alternatives in the market. Cotton and jute bags are not only green, but hard wearing and re-usable too. Supermarkets are regularly selling "Bag for Life" style shopping bags for in excess of £1.50 each. Carrier Bag Shop are hoping to supply smaller independent retailers with these bags at a fraction of the cost, allowing them to compete with the big high street names!
"It is important that our new range of cotton, jute, and organza bags are produced ethically, and really are environmentally friendly so we visited the factories in India to insure they have a robust Corporate Social Responsibility Policy, and the workers receive a fare wage. The cotton used to make the bags is locally sourced."
Carrier Bag Shop cotton bags are made from a 100% bio-degradable 5oz locally sourced cotton, thicker than other 3oz and 4oz bags that are often found in the market. Carrier Bag Shop have also brought out a new a range of colours; red, blue, yellow, pink, green, white, natural and black, with purple and orange on the way in Q2 of 2010. The bags are dyed using fabric dye which makes them machine washable, and if you're thinking of getting Printed Cotton Bags, then the stunning range of colours will definitely turn heads.
"Our cotton, jute and organza bags promote a cradle to cradle mentality as opposed to cradle to grave. Because they are hard wearing, the bags will be re-used long after acquisition which makes them a perfect way to promote a brands positive environmental message."
Managing Director Sujan Shah was adamant that whilst "Jute Bags are now available in all major supermarkets, they are usually horrendously overpriced. We are aiming to make jute bags more affordable to independent retailers, allowing them to compete with the major retailers." The R&D team at Carrier Bag Shop has developed two unique sizes for their Jute Shoppers based on their customer's demands. They have also introduced a new white bag in both sizes, which is ideal for those wanting to customise their bags as logos can be better reproduced.
Working with the same stitching mills in the sub-continent, Carrier Bag Shop have also developed a new range of higher quality Organza Bags and Pouches for jewellery, gifts and wedding favours. Being a notoriously difficult material to work with, new quality control and audit procedures had to be put into place to ensure that only quality bags are despatched out to clients. A range of 14 colours and 4 sizes are set for launch in Q2 of 2010 along with the new range of Coloured Cotton Bags.
Carrier Bag Shop are offering a full customisation and Bag Printing service on all of their new products, the eco-friendly bags are perfect for promotional or advertising purposes. As a result they are carrying positive environmental messages for brands. Coupled with the sites new Buyers Guide and Quote Builder, Carrier Bag Shop offers a unique easy-to-use buying experience which keeps the user coming back for more.
###