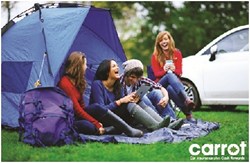 Carrot then pays cash rewards to encourage their customers to drive safely and will not penalise any poor or late night driving.
(PRWEB UK) 17 September 2012
Independent car insurance comparison site Tiger.co.uk has announced the addition of a new telematics based car insurance company to their ever growing panel – Carrot Car Insurance. Carrot, as the name suggests, is designed around rewarding safe driving and will offer the price comparison site's younger customers more choice, low premiums and other unique and exciting benefits.
Customers get to choose their annual mileage - between 3,000 and 7,000 - and buy Top-Up miles should they need more. This can help drivers to get on to the road for much less. Carrot then pays cash rewards to encourage their customers to drive safely and will not penalise any poor or late night driving. It is a uniquely positive approach designed with young people very much in mind by focussing on what they want from a car insurance company.
All the cash rewards are paid onto each customer's own Carrot pre-paid MasterCard® that also gives cash-back rewards at top retailers such as Topshop, Caffe Nero, HMV, House of Fraser and Halfords. Carrot even pays generous cash rewards for introducing friends and a £20 welcome bonus when the box is installed - Carrot uses the i-box telematics unit supplied by Risktrak.
Ed Rochfort, Carrot's Product Director, commented: "I'm delighted with our partnership with Tiger.co.uk and we're very excited to be working together. Since Carrot was first conceived our philosophy has been to build a telematics insurance product that encourages and rewards safe driving rather than punishing poor driving – with Carrot what we have designed is all about rewards.
"We hope the combination of low premiums, generous driving style, cash rewards, refer a friend rewards and further cash-back from retailers will provide something really new and appealing for Tiger.co.uk's customers."
Andrew Goulborn, Tiger.co.uk's Commercial Director, welcomed the new partnership: "Telematics insurance is really helping young drivers in particular to take control and reduce their premiums by improving their driving and lowering the risk of accidents. At Tiger.co.uk we're really happy to be working with Carrot and we are convinced their positive and innovative rewards based approach will add more choice and value to our customers. This takes to six the number of telematics products available on our panel and we believe this means that Tiger.co.uk offers more telematics car insurance choice than any other comparison site."
About http://www.tiger.co.uk:
Tiger.co.uk is a trading name of Call Connection Ltd. Tiger.co.uk is a UK based, independent motor insurance comparison site, offering insurance quotes from over 150 insurance brands. Call Connection Ltd is authorised and regulated by the Financial Services Authority (number 308374).
For more details about Carrot Car Insurance contact Andrew Brown-Allan on 07753 743357 or at andrew(at)carrotinsurance(dot)com. For more details about Tiger.co.uk, contact Andrew Goulborn at ag(at)callconnection(dot)com.