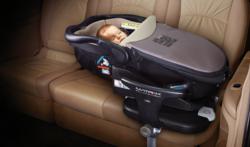 It is important that parents make the right choice when buying a car seat
(PRWEB UK) 12 June 2013
A New-born Car Seat Safety Guide, which aims to navigate parents through the maze of buying their first car seat, has been produced by global nursery goods manufacturer Jané.
The guide offers advice on what to look out for when buying a car seat. It provides information for parents on how to transport baby on its very first journey from hospital and it sheds light on the difference between an infant carrier and a travel system.
The guide also gives advice on using second-hand car seats, the legal requirements all parents must adhere to, and offers tips on correctly fitting car seats.
The guide also highlights the dangers associated with leaving a new-born baby in an unnatural hunched position in an infant carrier car seat for more than two hours.
Scientific research from Japan, USA and New Zealand says that leaving a baby in an infant carrier car seat for long periods of time can restrict the baby's airways and lead to oxygen desaturation.
Which? Magazine states that: "Child car seats should not be used for extended periods of time or as a replacement for a cot bed", and many UK health officials agree.
David McCullough, Director of Johnston Prams and Buggies, the UK and Ireland distributor explains: "It is important that parents make the right choice when buying a car seat. New-borns should be transported in a lie-flat system such as the Jané Matrix Light, which can convert from a car seat into a lie-flat carry cot. It's the healthiest way for a baby to travel - especially on long journeys."
"Parents also need to be aware of the pitfalls of buying second hand car seats and need to stay on top of legal requirements. Hopefully this guide (attached), along with Jané's on-line information, will help."