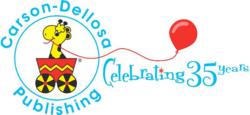 Greensboro, NC (PRWEB) March 27, 2012
Soon, teachers across the country will be receiving their 2012 Carson-Dellosa product catalogs and the company has more to offer than ever before. In addition to over 280 innovative new products, this year's catalog also features new digital offerings and twelve months of coupons.
Page three of the catalog displays Carson-Dellosa's new Learning Spot™ Lessons with instructions for a free, full unit download. Learning Spot™ Lessons, comprehensive digital lesson plans for interactive whiteboards and computers offer teachers a variety of tools to promote engaged learning and simplify classroom management. The catalog also premiers new bulletin board sets featuring the one-and-only OLIVIA™, several new items added to the award-winning Guinness World Record® line, and much more!
In order to help teachers save money on the products they need for their classrooms, for the first time ever, Carson-Dellosa has also included twelve months of valuable coupons.
The publishing company was also thrilled to include local, North Carolina talent in the catalog artwork. The cover and several inside pages include photography shot by local photographer Stacey Haines, on location at Diggs-Latham Elementary School in Winston-Salem. The photos feature real teachers, parents, and students from Diggs-Latham and other area schools.
This year, catalog recipients will also find a variety of insightful teaching tips and ideas throughout the pages, contributed by Carson-Dellosa's highly engaged Facebook fan community.
"This catalog paints a full picture of our relationship with teachers, parents, and students," said Judy L. Harris, CEO of Carson-Dellosa. "We actively seek out and include teacher and parent input in all we do, from product development to our catalog and even our website. This customer-centric, insight-driven approach helps us to create the kinds of innovative products and programs teachers and parents need to successfully motivate and educate students today."
Download your free Learning Spot™ Lesson Unit. To learn more about Carson-Dellosa click here.
About Carson-Dellosa
Carson-Dellosa Publishing, LLC, based in Greensboro, North Carolina, is a leading supplemental curriculum solutions provider for both educators and parents around the world. Founded by two teachers, the company boasts a 35-year history of enhancing a child's learning potential and environment through quality curriculum, supplemental learning materials, and classroom resources.
Carson-Dellosa proudly provides teachers, parents, and children around the world with the best possible educational materials produced by the industry's most recognized and respected award-winning brands including: Summer Bridge Activities™, Mark Twain Publishing, Key Education, HighReach Learning®, Frank Schaffer®, Spectrum®, Judy® Instructo, American Education Publishing™, and Brighter Child®. To learn more about Carson-Dellosa, visit carsondellosa.com, Facebook.com/CarsonDellosa, Twitter.com/CDPub, YouTube.com/CarsonDellosaPub, or Pinterest.com/CarsonDellosa.