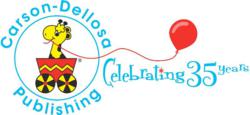 Greensboro, NC (PRWEB) January 18, 2012
Carson-Dellosa Publishing, LLC is celebrating 35 years in business by expanding its offerings of high-quality digital content as well as the paper-based products teachers have come to know and love.
Throughout the company's history, Carson-Dellosa has adapted its product offerings as the needs of educational professionals and parents have changed. In its anniversary year, the company will provide expertise, knowledge and content that supports a growing emphasis on managing students' individual learning styles and a national focus on standards-based curriculum.
The growing Carson-Dellosa product portfolio will be designed to help teachers and parents use both paper and technology to enrich the children's learning experiences in and out of the classroom.
"Great teachers are and always will be focused on their students, but the needs of both groups are changing," said Judy Harris, CEO of Carson-Dellosa. "Our goal is help both teachers and parents overcome today's challenges, such as bigger class sizes, fewer resources and a lack of high-quality materials that are standards- based and engaging to students."
Harris said that all products that Carson-Dellosa offers are developed and tested by education professionals to ensure their quality and alignment with curriculum standards. In planning new products, the company is focused on providing high-quality content, lesson plans and supplemental educational materials that help teachers and parents teach more effectively and students learn more efficiently.
"Today's schools require students to meet specific learning goals," Harris said. "It's our mission to support teachers and parents in their efforts to ensure all students are successful."
In addition to the introduction of new products, Carson-Dellosa has planned monthly promotions to thank its loyal customers.
To learn more about Carson-Dellosa, visit http://www.carsondellosa.com.
About Carson-Dellosa
Carson-Dellosa Publishing, LLC, based in Greensboro, North Carolina, is a leading supplemental curriculum solutions provider for both educators and parents around the world. Founded by two teachers, the company boasts a 35-year history of enhancing a child's learning potential and environment through quality curriculum, supplemental learning materials, and classroom resources.
Carson-Dellosa proudly provides teachers, parents, and children around the world with the best possible educational materials produced by the industry's most recognized and respected award-winning brands including: Summer Bridge ActivitiesTM, Mark Twain, Key Education, HighReach Learning®, Frank Schaffer®, Spectrum, Judy® Instructo, American Education PublishingTM, and Brighter Child®. To learn more about Carson-Dellosa, visit http://www.carsondellosa.com, Facebook.com/CarsonDellosa, Twitter.com/CDPub, or YouTube.com/CarsonDellosaPub.
###