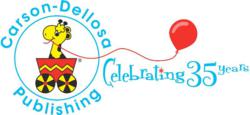 Greensboro, NC (PRWEB) February 29, 2012
In a key move to grow its stake in the digital and e-Learning marketplace Carson-Dellosa Publishing, LLC announced the hire of Steve Griffin as Chief Technology Officer.
Griffin comes to the educational publishing company with over twenty-five years of experience in information and education technology. He will serve as part of a collaborative, interdisciplinary leadership team in the initiative to develop and market Carson-Dellosa's innovative digital learning products.
"I am excited to be joining a company with 35 years of experience and a strong reputation for providing high-quality, effective educational resources," said Griffin. "I look forward to helping Carson-Dellosa become a world-class digital publisher who inspires interactive learning in the classroom and at home."
Griffin's hire is just one of many steps Carson-Dellosa will be taking in its 35th year to grow its digital portfolio. Earlier this month, Carson-Dellosa launched their Learning Spot™ Lessons, standards-based interactive whiteboard units comprised of digital lesson plans, teacher resources, and extension activities. Much like teachers and parents today, the company is looking to strike the perfect balance between proven learning techniques and new technologies.
"Adding Steve to our team will help us achieve a successful transformation to the digital space by boosting our technical expertise and enhancing our digital product development," said Judy L. Harris, CEO of Carson-Dellosa. "We are committed to helping good teachers become great teachers by providing not only the best quality traditional printed materials but now e-Learning products as well."
Before joining Carson-Dellosa, Griffin was Senior Vice President of Digital Media at Macmillan Higher Education, LLC. Griffin has also held positions at Preferred Commerce, IMS Global Consortium, and Collegis, Inc. He has been a leader in the establishment of e-Learning technology interoperability standards and a frequent speaker on educational technology.
To learn more about Carson-Dellosa, visit http://www.carsondellosa.com.
About Carson-Dellosa
Carson-Dellosa Publishing, LLC, based in Greensboro, North Carolina, is a leading supplemental curriculum solutions provider for both educators and parents around the world. Founded by two teachers, the company boasts a 35-year history of enhancing a child's learning potential and environment through quality curriculum, supplemental learning materials, and classroom resources.
Carson-Dellosa proudly provides teachers, parents, and children around the world with the best possible educational materials produced by the industry's most recognized and respected award-winning brands including: Summer Bridge Activities™, Mark Twain Publishing, Key Education, HighReach Learning®, Frank Schaffer®, Spectrum®, Judy® Instructo, American Education Publishing™, and Brighter Child®. To learn more about Carson-Dellosa, visit carsondellosa.com, Facebook.com/CarsonDellosa, Twitter.com/CDPub, or YouTube.com/CarsonDellosaPub.
###