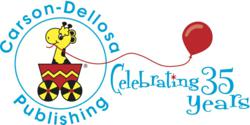 Greensboro, NC (PRWEB) May 07, 2012
Judy L. Harris, CEO of Carson-Dellosa, was recently honored as one of the Triad's Top Women in Business by the Triad Business Journal. For more than a dozen years, The Business Journal's Women in Business program has honored extraordinary businesswomen in the Triad for outstanding contributions to their profession, employers, and community.
Ms. Harris has been instrumental in growing the Greensboro-based publishing company's product portfolio and competencies throughout her role in the organization. A graduate of Drexel University and she also has attended leadership programs at Columbia University and University of Kansas; she has held executive leadership roles with organizations such as Crayola®, Discovery™ Networks, PBS, and Smarterville, Inc. Throughout her career, Harris has been an advocate for women in business, customer-driven insights, and constant product innovation.
The past year at Carson-Dellosa, a supplemental education company with a long history of producing award-winning workbooks, classroom decoratives, and other learning materials, is exemplary of her commitment to both innovation and transformation. Harris led the 35-year-old organization into the digital space with the launch of Carson-Dellosa's Learning Spot™ Lessons, interactive whiteboard curriculum units for kindergarten through grade 5. These interactive, comprehensive units have received overwhelmingly positive response from teachers who struggle to find high-quality, curriculum-based content to use with the technology in their classrooms. Harris is renowned for orchestrating this kind of evolution through market-driven new product innovation.
"I am delighted by this award and the Triad Business Journal's commitment to recognizing women leaders in business. For me, successful transformation is about recognizing the unique strengths and opportunities within your organization," said Harris. "Carson-Dellosa's strengths are its people and its expertise in education. With these two, we are able to produce insight-driven new products that meet the ever-changing needs of teachers, parents, and students."
Community involvement is also important to Harris. In addition to her many corporate accomplishments, she provides board-level leadership to a number of non-profit organizations including Do Something, Net Aid, Women in Film, and more.
Judy L. Harris is also the proud mother of a busy teenage son, and strives to create a family-friendly culture at Carson-Dellosa that is supportive of the many parents who work for the organization.
To learn more about Carson-Dellosa click here.
About Carson-Dellosa
Carson-Dellosa Publishing, LLC, based in Greensboro, North Carolina, was founded by teachers and boasts a 35-year history as the leading supplemental education provider for educators, parents, and students around the world. Carson-Dellosa is renowned for nurturing a child's learning potential and environment through Common Core Standards-based curriculum, innovative digital learning products, supplemental learning materials, and classroom resources.
Carson-Dellosa proudly provides the best possible educational materials produced by the industry's most recognized and respected award-winning brands including: Learning Spot™ Lessons, Summer Bridge Activities™, Mark Twain Publishing, Key Education, HighReach Learning®, Frank Schaffer®, Spectrum®, Judy® Instructo, American Education Publishing™, and Brighter Child®.
To learn more about Carson-Dellosa, visit carsondellosa.com, Facebook.com/CarsonDellosa, Twitter.com/CDPub, or YouTube.com/CarsonDellosaPub.