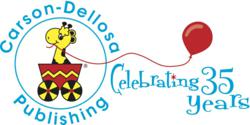 Greensboro, NC (PRWEB) April 25, 2012
Carson-Dellosa is pleased to announce the recent release of units for grades three through five of their award-winning, digital lesson plans the Learning Spot™ Lessons. These lesson plans are designed to help teachers make the most of classroom technology and engage their students with Common Core Standards based content.
Educators have the limited time opportunity to experience Learning Spot™ Lessons by downloading a free unit at CDLearningSpot.com. Learning Spot™ Lessons bring interactive whiteboards to life with complete curriculum units that allow teachers to plan lessons faster; each unit downloads in seconds, saving teachers hours of prep time.
"Our company's transition into the digital space is centered around recognizing the need for comprehensive, high quality resources for the technology on which teachers now rely in their classrooms," said Judy L. Harris, CEO of Carson-Dellosa. "Learning Spot™ Lessons are a breakthrough product in the digital education market, and we're thrilled that they are being recognized and valued by both teachers and others in our own industry."
Learning Spot™ Lessons were recently awarded the prestigious Best in Education Software Award (BESSIE). These awards recognize innovative and content-rich programs and websites that provide parents and teachers with the technology to foster educational excellence.
Learning Spot™ Lessons are compatible with all types of interactive whiteboards, as well as Macs and PCs. Teachers can use Learning Spot™ Lessons on up to five devices with just one account, perfect for computer workstations or to share with a fellow educator. Each content-rich unit features teacher notes, extension activities, group and individual activities, take home worksheets, and more.
"My overall impression has been very positive. The lessons are a great resource for teaching the Common Core Standards in Math and Language Arts," said a teacher who participated in the Learning Spot™ Lessons pilot program. "The teacher notes available to support the interactive whiteboard lessons are proving to be a very valuable resource and add depth to my lessons. But the best part is that the children love them!"
To try Learning Spot™ Lessons and download your free unit, click here. To learn more about Carson-Dellosa click here.
About Carson-Dellosa
Carson-Dellosa Publishing, LLC, based in Greensboro, North Carolina, is a leading supplemental curriculum solutions provider for both educators and parents around the world. Founded by two teachers, the company boasts a 35-year history of enhancing a child's learning potential and environment through quality curriculum, supplemental learning materials, and classroom resources.
Carson-Dellosa proudly provides teachers, parents, and children around the world with the best possible educational materials produced by the industry's most recognized and respected award-winning brands including: Summer Bridge Activities™, Mark Twain Publishing, Key Education, HighReach Learning®, Frank Schaffer®, Spectrum®, Judy® Instructo, American Education Publishing™, and Brighter Child®. To learn more about Carson-Dellosa, visit http://www.carsondellosa.com, facebook.com.CarsonDellosa, twitter.com/CDpub, pinterest.com/carsondellosa/ or YouTube.com/user/CarsonDellosaPub.