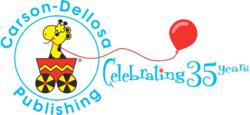 Greensboro, NC (PRWEB) March 20, 2012
The 2012 Ed Expo and Dealer Conference hosted by the National School Supply and Equipment Association (NSSEA) will be held March 21–23 in Baltimore, MD. This year's theme is "Moving Education Forward" and no participant rises to that challenge more than Carson-Dellosa Publishing.
The 35-year educational publishing leader has experienced tremendous digital growth this year, launching Learning Spot™ Lessons interactive whiteboard curriculum units. Recognizing the diverse needs of 21st century educators, Carson-Dellosa sought out over 200 teachers to assist in the development and testing of these comprehensive digital learning units. Each unit features lesson plans, extension activities, differentiated instruction, student activities, and printable pages, and is compatible on all interactive whiteboards, Macs, and PCs. The standards-based units support Core Curriculum, literacy, math, and science. As part of the nationwide launch, Carson-Dellosa continues to offer a free, full unit download for dealers and teachers valued at $14.99. To learn more about Learning Spot™ Lessons, visit CDLearningSpot.com.
Carson-Dellosa will demonstrate Learning Spot™ Lessons at the 2012 Ed Expo and Dealer Conference in booth #2205. Dealers are invited to stop by and learn more.
"We developed and launched this product with our retailer partners in mind. We wanted to make it easy for retailers to successfully meet the changing needs of teachers who are under pressure to incorporate technology in their classrooms but often struggle to find high-quality content they can trust. We crafted a completely turnkey program that allows all of our retail partners to participate in selling our Learning Spot™ Lessons, no matter their size or technical capabilities," said Judy L. Harris, CEO of Carson-Dellosa. "Our retailers now have the ability to deliver outstanding digital content to teachers in a way they have not been able to up to this point."
Carson-Dellosa has received overwhelmingly positive feedback from dealers and teachers alike in response to the launch of the Learning Spot™ Lessons, with over 200 dealers already committed to offering this unique product line.
"We are very excited to offer such an innovative product as Carson Dellosa's Learning Spot™ Lessons for interactive whiteboard. How much easier can it be for a classroom teacher to achieve success at such an affordable price?" said Todd Merryfield, owner of the Wisconsin-based The Learning Shop.
The 2012 Ed Expo and Dealer Conference hosted by the National School Supply and Equipment Association is the largest back-to-school ordering show in the educational marketplace and is specifically geared toward product retailers and full-line distributors. It provides dealers with the opportunity to see thousands of products, network with fellow dealers, and increase business know-how through workshops.
To learn more about Carson-Dellosa, visit carsondellosa.com. To learn more about NSSEA, visit nssea.org.
About Carson-Dellosa
Carson-Dellosa Publishing, LLC, based in Greensboro, North Carolina, is a leading supplemental curriculum solutions provider for both educators and parents around the world. Founded by two teachers, the company boasts a 35-year history of enhancing a child's learning potential and environment through quality curriculum, supplemental learning materials, and classroom resources.
Carson-Dellosa proudly provides teachers, parents, and children around the world with the best possible educational materials produced by the industry's most recognized and respected award-winning brands including: Summer Bridge Activities™, Mark Twain Publishing, Key Education, HighReach Learning®, Frank Schaffer®, Spectrum®, Judy® Instructo, American Education Publishing™, and Brighter Child®. To learn more about Carson-Dellosa, visit carsondellosa.com, Facebook.com/CarsonDellosa, Twitter.com/CDPub, or YouTube.com/CarsonDellosaPub.
###