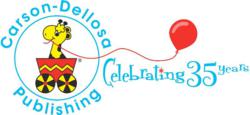 Greensboro, NC (PRWEB) January 25, 2012
What do OLIVIA™ and the Guinness World Records® holder for the world's tallest man have in common?
They are some of the newest stars in Carson-Dellosa's lineup of engaging and motivational products for the classroom.
"We're delighted to partner with OLIVIA™ and Guinness World Records® because they allow us to continue to develop fun, entertaining, and highly-engaging products for children with the educational value that teachers and parents want." said Judy Harris, CEO of Carson-Dellosa. "These new products strengthen our portfolio, which has consistently been expanding and evolving with the needs of teachers and parents for 35 years."
The new OLIVIA™ products from Carson-Dellosa will include classroom bulletin board sets based on the Caldecott award-winning children's book series by Ian Falconer.
Carson-Dellosa also has a well-established partnership with Guinness World Records® including an award-winning line Guinness World Records® Math and Reading books, Creative Writing Cards, and Fact Cards that use the brand's legacy of amazing facts and surprising trivia to spark curiosity and motivate students. This year, Carson-Dellosa has added new puzzle workbooks including Amazing Animals, Baffling Bodies, and Outrageous Oddities; tangrams featuring favorite world records picked by students; and motivational bulletin board sets and bookmarks.
Throughout Carson-Dellosa's 35-year history, the company has adapted and evolved to provide innovative and cutting-edge classroom solutions. It is known worldwide for educational expertise and reliable content that supports the needs of teachers and students. The growing Carson-Dellosa product portfolio includes high-quality digital content as well as the paper-based products that enrich the classroom learning experience.
To learn more about Carson-Dellosa and the OLIVIA™ and Guinness World Record® products, please visit http://www.carsondellosa.com.
About Carson-Dellosa
Carson-Dellosa Publishing, LLC, based in Greensboro, North Carolina, is a leading supplemental curriculum solutions provider for both educators and parents. Founded by two teachers, the company boasts a 35-year history of enhancing a child's learning potential and environment through quality curriculum, supplemental learning materials, and classroom resources.
Carson-Dellosa proudly provides teachers, parents, and children around the world with the best possible educational materials produced by the industry's most recognized and respected award-winning brands including: Summer Bridge Activities™, Mark Twain, Key Education, HighReach Learning®, Frank Schaffer®, Spectrum, Judy® Instructo, American Education Publishing™, and Brighter Child®. To learn more about Carson-Dellosa, visit http://www.carsondellosa.com, Facebook.com/CarsonDellosa, Twitter.com/CDPub, or YouTube.com/CarsonDellosaPub.
About Guinness World Records®
Guinness World Records® is the universally recognized authority on record-breaking achievement. First published in 1955, the annual Guinness World Records® book is published in more than 100 countries and 25 languages and is one of the highest-selling books under copyright of all time with more than 3 million copies sold annually across the globe. Guinness World Records® celebrated its 50th anniversary edition in 2004, a year after the sale of its 100 millionth copy. Guinness World Records® also annually publishes the Gamer's Edition; a records book devoted solely to the world of computer gaming and high score record achievements.
About OLIVIA™
Ian Falconer's OLIVIA™ books have garnered as much critical acclaim as they have commercial success. Originally created as a gift for his niece Olivia, Falconer's children's book Olivia was first published in October 2000. An instant bestseller and children's classic, it received the prestigious Caldecott Honor from the American Library Association and the Book Sense Children's Illustrated Book of the Year award from the American Booksellers Association. More than six million of Falconer's classic OLIVIA™ books have been sold in 22 territories, and OLIVIA™ also debuted in 2009 on Nickelodeon as a top-rated and critically acclaimed television series.
About Chorion
Chorion is a leading provider of quality family entertainment for the global marketplace. Chorion brings a combination of brand management savvy and creative vision to the development of literary copyrights across all media. For more information, please visit http://www.chorion.co.uk.
###