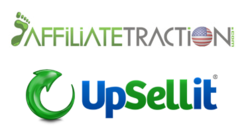 After years of testing and tracking whether sales increased from saving potential lost transactions, we discovered that not only did the technology actually convert abandoned transactions, it ... increased longtail conversion.
Westlake Village, CA (PRWEB) July 18, 2012
AffiliateTraction, the largest multi-national affiliate marketing agency in the world, announced today their partnership with UpSellit, the global leader in shopping cart abandonment technology. After over two years of working together, AffiliateTraction and UpSellIt are now providing large brand equity retailers with streamlined integration of UpSellit's Abandonment Chat and Email Re-Marketing technology.
AffiliateTraction has a history of testing and adopting technologies that are empirically proven to develop internet retailers' affiliate channel. UpSellit's suite of abandonment solutions will provide AffiliateTraction's internet retailers with the unique opportunity to recover abandoned consumers on a pay-for-performance pricing model. The cart abandonment solutions are custom designed, developed, hosted and optimized by UpSellit with client collaboration and approval at every stage of the process. Using extensive targeting, segmentation and testing, UpSellit delivers highly relevant consumer engagements that increase conversions up to 25%.
UpSellIt's cart abandonment solutions are complementary to AffiliateTraction's service. With a simple one-time integration fully managed by AffiliateTraction, internet retailers can save transactions without exorbitant costs or a heavy dedication of resources for implementation.
Greg Shepard CEO of AffiliateTraction stated, "AffiliateTraction chose UpSellIt because after years of testing and tracking whether sales increased from saving potential lost transactions, we discovered that not only did the technology actually convert abandoned transactions, it actually added another "Touch Point" which increased long tail conversion. This was not true for all abandonment technology. In fact, many publishers of this type had transactions tracked to them but did not increase over all transactions."
"AffiliateTraction has always been a very forward-thinking agency dedicated to providing their clients with the most effective methods of enhancing their advertisers' online performance," stated Tom Kogler, UpSellit CEO and Co-Founder. "After several years of working together, we are very pleased to formally announce our partnership with AffiliateTraction. AffiliateTraction provides their clients with unparalleled attention and we have seen them help clients grow and improve their affiliate programs in a way unmatched by other providers. When they say that all they do is Affiliate Marketing they are serious... and they do it exceptionally well."
About AffiliateTraction
AffiliateTraction is a full-service performance marketing agency that specializes in incubating, managing, growing, and promoting affiliate programs for top internet retailers and is the largest agency of its kind in the United States. Founded in 2000 by Greg Shepard, CEO, AffiliateTraction is retained by mid-market to enterprise-level organizations to expand their presence in online performance marketing through active management of multiple networks and direct publisher relationships. AffiliateTraction advocates itself as an all-inclusive agency that provides clients with the tools, support, and technology needed to successfully grow their affiliate programs.
About UpSellit
UpSellit is a full-service provider of pay-for-performance cart abandonment solutions that leverage custom email, chat and survey technologies to recover abandoned consumers and gather non-customer feedback. Since 2005, UpSellit has successfully recovered and converted over 12 million abandoned consumers for a wide variety of online businesses. With completely customized campaigns, UpSellit provides merchants with the opportunity to engage targeted abandoned visitors in strategic engagements that extend the brand and increase overall site conversions.
For more information about this strategic partnership, please visit: http://www.upsellit.com/company/news/site-abandonment-affiliateTraction