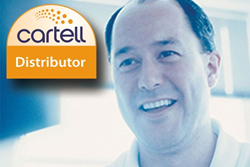 We continually seek more wholesalers to become our distributors. Their size does not matter; what matters is their emphasis on product quality and customer service.
Salunga, PA (PRWEB) August 06, 2014
From 1975, Cartell has categorized distributors into two types: Stocking distributor and Non-stocking distributor, with a pricing difference of 10%. In June, the two types of distributors were combined into one, giving each the same discount off the product price. All distributors will now be regarded as stocking distributors.
Of this change, Mr. Jonathan Bohannon, President/CEO of Cartell, commented: "All these years we have divided our distributors into two with a difference between the two at best nominal, at worst farcical. We have never enforced a minimum order requirement nor have we enforced a minimum stock requirement. The difference, therefore, was only in name. I thought it time to get rid of the name."
This change will only affect a small number of distributors and for them it will mean a deeper discount. Cartell does give a volume discount, which will also now be available to those who once were Non-stocking distributors.
Mr. Bohannon continues, "We continually seek more wholesalers to become our distributors. Their size does not matter; what matters is their emphasis on product quality and customer service. We welcome distributors in the security/home automation, electrical, building, fence and gate operator industries. If someone is interested he/she should contact me personally."
For more information on becoming a Cartell distributor, visit: http://www.cartell.com/become-a-reseller/distributor-information
Cartell, founded in 1975, is a division of Preferred Technologies Group, located in Lancaster County, Pennsylvania. Starting with its groundbreaking use of magnetometer technology for vehicle detection, Cartell has led the industry with innovation, functionality, quality and value. The dependability of Cartell's products far exceeds the industry standard and is backed by a five-year warranty. Every Cartell product is quality-made in the U.S.A. and sold by a national network of fine distributors
.
Media Contact
Jonathan Bohannon, President/CEO
j.bohannon@cartell.com
(717) 917-4468
http://www.cartell.com