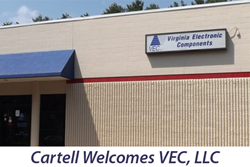 Cartell is pleased to welcome Virginia Electronic Components
Salunga, PA (PRWEB) August 20, 2014
Virginia Electronic Components was founded in 1949 in Charlottesville, Virginia and was originally called "Virginia Radio Supply." Their business was initially supplying vacuum tubes and electronic parts to radio enthusiasts.
Over the next few decades their electronics business expanded as electronics manufacturing grew in the United States. The name was changed to Virginia Electronic Components, though still known as VEC, and soon became the largest stocking distributor in the State of Virginia, and a leading distributor in the United States.
During the late 1980's & early 1990's, VEC decided to diversify into the contractor market and supply cable, connectors and other products to the fast growing "Voice & Data" market. In recent years, expansion also included Industrial Automation, Security/Surveillance and Access Control products.
VEC has seven active branches throughout Virginia and North Carolina. To service their growing European business, they have added sales offices in Munich, Germany and Rome, Italy.
In recent months, some of VEC's customers requested vehicle detection products and Cartell was approached after extensive research. Information was supplied and it was soon discovered a working relationship between VEC and Cartell would be beneficial.
Of this relationship, Jonathan Bohannon, President/CEO of Cartell says, "Working with Phil Moore of VEC, LLC has been a pleasure as information about our companies traveled back and forth and all the necessary administrative procedures were accomplished to form this relationship. I wish VEC, LLC success, not only as it sells our product, but as it continues to supply the myriad of products it offers to its valuable customer base."
Cartell, founded in 1975, is a division of Preferred Technologies Group, located in Lancaster County, Pennsylvania. Starting with its groundbreaking use of magnetometer technology for vehicle detection, Cartell has led the industry with innovation, functionality, quality and value. The dependability of Cartell's products far exceeds the industry standard and is backed by a five-year warranty. Every Cartell product is quality-made in the U.S.A. and sold by a national network of fine distributors.
Media Contact
Jonathan Bohannon, President/CEO
j(dot)bohannon(at)cartell(dot)com
(717) 917-4468