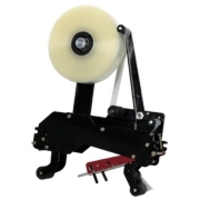 Rancho Cucamonga (Vocus) February 27, 2010
Carton sealing tapes authority BestPack.com is extending its free tapehead and Inflation Buster promo to help more businesses save with packaging equipment such as carton sealing tapes and carton sealers. Businesses purchasing a BestPack carton sealer with a pallet of BestPack carton sealing tapes will receive a free tapehead, allowing them to save as much as $1,168 – amount businesses can use for other packaging equipment such as carton sealers, accessories, and carton sealing tapes.
Additionally, heavy duty manual bottom drive carton sealers (MBDs) are now being offered for the low price of $2500 as a result of BestPack's Inflation Buster promo. Heavy duty MBD carton sealers from the world's leader in effective packaging solutions boast of being able to seal 30-50 boxes per minute. Moreover, MBD carton sealers from BestPack features new compression rollers and a centering guide to maintain a consistent seal. Businesses can save more with MBD carton sealers manufactured by the global leader in packaging equipment.
BestPack has earned national success because of the broad temperature range and consistent film quality the company's specially formulated carton sealing tapes manufacture. An important quality for the pharmaceutical, food, and electrical industries, BestPack's specially formulated hot melt and water-based acrylic carton sealing tapes boasts of temperature flexibility and are manufactured in an ISO 9001 and 14001 facility, contributing to its success and durability.
Creating packaging equipment solutions for Fortune 500 companies such as Motorola, Gucci, Tommy Hilfiger, Liz Claiborne, Proctor and Gamble, and Dole has brought BestPack additional success. For over 40 years, BestPack has provided many businesses the gift of efficient packaging solutions. Sign up with the company's newsletter for further updates or visit BestPack's official blog for more tips and information on packaging equipment solutions.
About BestPack.Com
Based in Rancho Cucamonga, CA, BestPack is the industry's leader in packaging equipment machinery, carton sealers, carton erectors and carton sealing tapes. In addition to providing customized packaging solutions, BestPack is the most reliable and dependable manufacturer of all product packaging systems. Press release produced by Cybertegic.com- an Internet marketing services agency that specializes in search engine optimized press release marketing (SEO marketing).
###