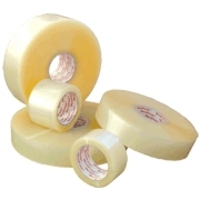 Rancho Cucamonga, CA (Vocus) April 28, 2010
BestPack.com, a leader in carton sealers and tapes, is introducing 6-inch carton sealing tape to its line-up of high quality carton sealing tape line. BestPack's 6-inch tape is an improvement over the standard 3-inch carton sealing tape because it efficiently seals under filled boxes and ensures that overfilled boxes remain closed. Since it covers a wider surface area, the 6-inch tape has most widely been in used in the clothing industry as it deters theft during shipment for clothing and other soft items. The increased strength of the 6-inch tape also offers the same protection as water adhesive tape. Additionally, this highly durable tape can be sealed at a rate of 16-24 boxes per minute, helping customers save on both labor and material.
To help industries save on packaging equipment, BestPack.com has decided to continue to run its Inflation Buster and Free Tapehead promotion. With the Inflation Buster promo, businesses can purchase heavy duty manual bottom drive (MBD) carton sealers for a low price of $2500. Bestpack's heavy duty MBD carton sealers now have new features such as new compression rollers and a centering guide for a consistently tight seal every time. Additionally, the heavy duty MBDs from BestPack.com can seal as many as 30-50 boxes per minute. This product saves companies both time a money through lower sealing time and better efficiency. BestPack is also offering customers a free tapehead for every purchase of a BestPack carton sealer with a pallet of carton sealing tape. With these savings of as much as $1,168 in packaging equipment, businesses can use their extra money to invest in other packaging equipment such as carton sealers, palletizers and shrink hooders.
BestPack.com has been a global leader in carton sealers and carton sealing tape for over 40 years. We provide the most efficient packaging equipment to top companies such as Motorola, Gucci, Tommy Hilfiger and Liz Claiborne. For the latest industry news and updates in packaging equipment, simply sign up with the company's newsletter or visit BestPack.com's official blog.
AboutBestPack.com
Based in Rancho Cucamonga, CA, BestPack is the industry leader in packaging equipment machinery, carton sealers, carton erectors and packaging tape. Also providing customized packaging solutions, BestPack is the most reliable and dependable manufacturer of all product packaging systems. This Press release is produced by Cybertegic.com - an Internet marketing services agency that specializes in search engine optimized press release marketing (SEO marketing).
# # #