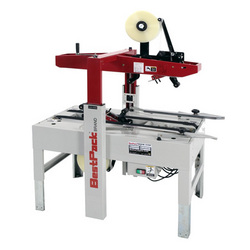 Rancho Cucamonga, CA (PRWEB) August 11, 2009
Beat the competition with a heavy-duty manual bottom drive (MBD) carton sealer designed to give efficient and reliable performance at an affordable price. Carton sealing tapes experts BestPack is offering a limited-time Inflation Buster Promotion on all BestPack MBD carton sealing machines, now valued at only $2,500. This is a limited time offer, so act fast on this discount offer and upgrade your packaging image.
BestPack's MBD carton sealers feature new compression rollers and centering guide to maintain consistent seal and are capable of sealing lightweight and close to empty cartons. In addition, the MBD carton sealer seals at an efficient rate of 30-50 cartons per a minute. Take advantage of a terrific price while producing high-quality products.
As the industry's leader in packaging equipment solutions for carton sealing tapes, case erectors, and carton sealers, BestPack has provided the cosmetics, dry goods, food packaging, and medical packaging industries top-of-the-line packaging system solutions. BestPack also provides installation and training to maximize productivity and cost-efficiency. Simply sign up with the newsletter to be updated of the latest promotions BestPack.com has to offer.
Also, to serve clients better, BestPack now offers a free BestPack tape head for every purchase of BestPack Carton Sealer & one Pallet of BestPack carton sealing tape. Save as much as $1,168 upon purchasing BestPack carton sealers and a pallet of carton sealing tapes and receive a BestPack tape head. For more information about this promotion, call 909.987.4258 ext 123 and simply ask for Pat Brennan. Every business should be saving up and not spending more on production. Thanks to BestPack.Com, production costs are now both reduced and efficient.
About BestPack.Com
Based in Rancho Cucamonga, CA, BestPack is the industry's leader in packaging equipment machinery, carton sealers, carton erectors and carton sealing tapes. Also providing customized packaging solutions, BestPack is the most reliable and dependable manufacturer of all product packaging systems. Press release produced by Cybertegic.com - an Internet marketing services agency that specializes in search engine optimized press release marketing (SEO marketing).
###