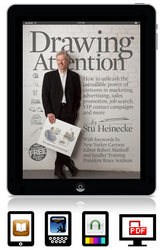 Cartoons are perhaps the most powerful involvement device ever invented.
Seattle, WA (PRWEB) February 15, 2011
Most people are fans of cartoons, and now they can become fans of the powerful effect cartoons can have in their daily lives, according to Stu Heinecke, author of Drawing Attention, a new book which releases next week on iBooks, Kindle, Nook and Sony Reader.
"We've all heard humor is good for us," says Heinecke, "but it can also be surprisingly good for boosting your results in life." Editorial readership surveys show cartoons are almost always the best read and remembered part of magazines and newspapers. According to Heinecke, humor is about truth and truth creates agreement, but cartoons do it in such a disarming and irresistible way, they are perhaps the most powerful involvement device ever invented.
Heinecke says cartoons have powered countless record-breaking campaigns for some of the world's biggest direct marketers, but you don't have to be a big advertiser to benefit from their use. "Cartoons create instant connections with people," says Heinecke, "and that can have a big effect on any project you may be facing, whether it's giving a presentation, introducing yourself to someone important, making a sale, boosting your earnings or interviewing for a new job."
As an example, Heinecke, who owns the marketing agency CartoonLink and is himself a prominent cartoonist, cites a recent sales promotion campaign that drew a 100% response and an ROI of more than 13,000%, an e-mail campaign that generated a 130% open rate, and his 100% success rate so far, using cartoons to help clients and friends land new jobs. In Drawing Attention, he explains the inner workings of cartoons so readers can put them to use without worry of hitting a sour note. The book includes a foreword by New Yorker cartoon editor Robert Mankoff and features the work of several of the magazine's top cartoonists.
The book goes on sale next week for $9.99 on iBooks, Kindle, Nook and Sony Reader, but a pre-release PDF version is available now at CartoonLink.com.
ABOUT STU HEINECKE: Drawing Attention author Stu Heinecke is one of the world's foremost experts on the use of cartoons in advertising, marketing and sales promotion, having blended cartooning and marketing for nearly thirty years. A prominent cartoonist whose work has appeared in countless marketing campaigns and in The Wall Street Journal and other publications, Mr. Heinecke is the President and Founder of CartoonLink (CartoonLink.com), a service that helps marketers apply the powerful effects of cartoons in their campaigns.
# # #