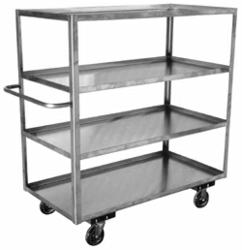 Time is Money.
Boston, MA (PRWEB) June 29, 2013
Stainless steel carts are needed by many A Plus Warehouse customers. At A Plus Warehouse, these types of carts generally are all welded with 16 GA construction. A Plus Warehouse has many vendors including Pucel, Lakeslide, and Gill Industries. A Plus Warehouse is proud to add Jamco to this wonderful list.
A customer may ask the benefit of ordering a stainless steel cart with steel carts being less expensive. The answer to this question is relatively simple. First of all, a stainless steel cart makes a perfect food cart. The cart is also perfect for handling electronic devices and other sensitive material. This is because stainless steel does not rust. According to Ed Stairman, president of A Plus Warehouse, "If a customer is looking for a cart for food service, the A Plus Warehouse team strongly recommends stainless steel carts." With the introduction of Jamco Stainless steel carts, there is no better time for a customer to consider ordering these carts.
Jamco is a trusted name. A Plus Warehouse guarantees customers will be happy with Jamco. The company takes pride in the fact that every item they produce is only the highest of quality. Products are available nationwide. Another interesting fact is that all of their products are made here in the U.S.A. Jamco is always brainstorming new ideas. The creative mind of the company is constantly at work in order to stand out from their competitors. When ordering a Jamco product, customers are guaranteed to have quick shipment times. At A Plus Warehouse, the company understands how important time is to customers. As Benjamin Franklin once famously stated, "Time is Money." So why should customers accept slow service when they can have much faster service with Jamco.
Although Jamco food carts are a new item at A Plus Warehouse, Jamco work benches are one of the oldest and most popular items sold at A Plus Warehouse. The extra heavy duty Jamco work benches are an excellent product available at A Plus Warehouse. This product has a high capacity of 16,000 pounds. The product is also shipped all welded and ready for use. There is a reason this product has always been a favorite among A Plus Warehouse customers.
A Plus Warehouse is the operator of http://www.apluswhs.com and distributes materials handling and storage equipment nationwide and throughout Canada. The sales staff at A Plus Warehouse is available at 800-209-8798. A Plus Warehouse has been in constant operation since 1996.