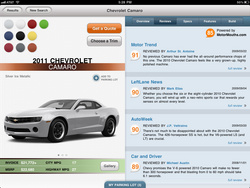 The app puts the entire world of automotive at your fingertips.
New York, NY (PRWEB) March 15, 2011
CarZen today released the first car research and shopping application for the iPad. Sponsored by AutoNation, America's largest auto retailer, the free CarZen iPad app is a superior way for consumers to make sound and well-informed car buying decisions while utilizing the highly visual, interactive and touch-based iPad interface.
Heightening its appeal – and unlike any other iPad app – CarZen has created several breakthroughs, including:

Simple & Powerful Search Experience: Search across any combination of brands, body styles and price ranges to zero into the exact cars you want to look at;
Highly Visual Experience: Gorgeous full screen gallery of every new car on the market with unprecedented 1024x768 resolution image along with seeing every car in any color;
Comprehensive Reviews: Save time searching for reviews – CarZen offers every new car review on the internet for every single car summarized and linked in the same place;
Easy-to-use Configuration Tool: Build and configure the exact car you're looking for with the exact options you want; and
Parking Lot: Save cars in your Parking Lot so you can access them later; and
Get a Quote: Contact local dealers quickly and painlessly to get the best price on a new car.
"iPad owners deserve a better way to research and shop for cars than using web sites that really aren't made for touch. We created the CarZen iPad app to be highly visual and highly interactive – we want people to touch the cars; to feel the cars, and to share the cars with their friends and family," said Nick Gidwani, founder and CEO of CarZen. "The app puts the entire world of automotive at your fingertips."
About CarZen:
CarZen is the most efficient and powerful car search app on the iPad. CarZen is focused on delivering a pain-free car research experiences that empowers consumers to make better car-related decisions. CarZen is auto enlightenment. For more information, visit http://www.carzen.com, follow @CarZen on Twitter or Like CarZen on Facebook.
# # #