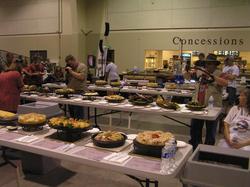 We will start with all of the teams cooking Jan. 7
Las Vegas, NV (Vocus) November 17, 2010
The inaugural Mesquite Open Dutch Oven Cookoff highlights activity at the CasaBlanca Resort Hotel Jan. 7-8 with an impressive $5,000 purse and the expectation of 30 teams.
The Mesquite Open Dutch Oven event is expected to turn the grounds of the CasaBlanca into a culinary delight. The event is being spearheaded by Arlie Bragg who brought the Smokin' in Mesquite BBQ Championship to Mesquite.
"We will start with all of the teams cooking Jan. 7," explained Bragg, whose Smokin' in Mesquite BBQ competition on Labor Day weekend draws teams from all over the country each year. "On the final day, half of those teams will advance to the final round."
Bragg, a 12-year veteran of cooking competition events, said the response to the event has been strong in a very short period of time with emails being received from several states including Idaho, Utah, New Mexico, Nevada and Arizona along with several calls from California. Competition will be staged in the CasaBlanca Event Center.
"This is absolutely competitive," said the soft-spoken Bragg explaining that the contestants cook with charcoal. "They will cook gourmet like crown roasts and salmon. The cooks use tables that are 18 inches off the ground, and they have very strict rules. They will be judged ingredients. There is going to be an incredible amount of culinary work going into this event."
Three pots with different items including breads, a main course and dessert will be cooked in the Dutch ovens.
The first Mesquite Open Dutch Oven Cookoff event is expected to lead to the richest event of its kind at the CasaBlanca in 2011.
"It's another exciting new event for the CasaBlanca," said Christian Adderson, sporting events manager. "We anticipate a great turnout for our first event and expect that the Dutch oven competition will grow over the next couple of years to become the richest of its kind in the world."
Adderson said the staff of the CasaBlanca met with Bragg after the 2010 Smokin' in Mesquite BBQ event.
"We appreciate Arlie's passion with cooking events," said Adderson, a 31 year-old native of Seattle, Wash. who has been with Black Gaming for five years. "There is great interest in Dutch Oven competition especially in Utah and other surrounding states."
Further information can be found by calling Christian Adderson, sporting events manager of the CasaBlanca at 702-346-7529, ext. 6981, email him at cadderson(at)blackgaming(dot)com; or email bragg at @arlieque(at)comcast(dot)com.
###