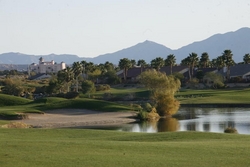 This is a great chance for the pros to get into some good weather and show some appreciation toward their club members
Las Vegas, NV (Vocus) September 30, 2010
The Mesquite Fall Pro-Am is scheduled from Nov. 15-16, and is expected to draw about 120 players (30 Pro-Am teams) at Falcon Ridge and CasaBlanca courses.
Then, the Southwest Invitational scheduled for the Palms and CasaBlanca courses is expected to attract another 120 players (60 two-person teams) Nov. 18-19.
With players coming from all over the country to participate in the events, the purses will be significant. For instance, the Mesquite Fall Pro-Am will feature a purse of about $21,000 based on 30 teams.
The Southwest Invitational's strong attraction should add another $10,000 based on 60 two-man teams. In addition, a one-day $6,000 Skins game at the CasaBlanca Golf Course is scheduled for Wednesday, Nov. 17 creating an even more impressive pot for the week.
Mesquite has long been lauded for its multi-faceted environment and tournament officials are encouraging players to capitalize on one of the country's great getaways.
John Graham and partner Doug Hampton will return to defend their title in the Southwest Invitational to open the extravaganza. Residents of Idaho Falls, Ida., Graham; and Hampton are both looking forward to the events.
"I had eight birdies on the first day," laughed Graham whose partner owns a trucking company in Idaho Falls. "We didn't play as well the second day, but ended up winning by a couple of strokes over a team from Reno. We usually have four feet of snow in Idaho at that time of year, so we're really looking forward to getting back to Mesquite."
Falcon Ridge Director of Golf Brian Wursten said the tournaments create a blockbuster week in Mesquite.
"There is a lot of money that comes in and out during these tournaments," said Wursten. "There are more payouts than in just the first three places since last year we paid seven places."
Wursten said professionals enjoy coming to Mesquite in November.
"This is a great chance for the pros to get into some good weather and show some appreciation toward their club members," explained Wursten. "They bring their club members out to Mesquite for a good time and good golf. It's just plain good PR all the way around along with a nice vacation and some good weather."
Colorado pro Mark Owen won the Mesquite Fall Pro-Am last year even though he was a late entry in the event.
"He was a last-minute replacement," said Wursten. "The pro was changed at the last minute. Mark shot a 71-67—138 which is a great score. He shot five-under-par for two days.
"This is a great week for a lot of people, that's for sure."
For further information regarding the Mesquite Fall Pro Am, contact Wursten at 702-346-6363.
For information regarding the Southwest Invitational, call Darrell Edwards of Black Gaming at 888-711-4653, ext. 11.
###