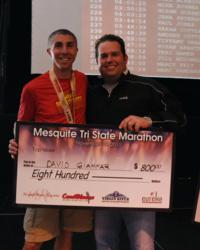 When I retired, I had a choice of either going fishing or going running. -- Jim Madonna, Fairbanks, Alaska
Mesquite, Nev. (PRWEB) November 29, 2011
The third annual Mesquite Tri-State Marathon November 19th had everything ranging from a challenging layout to enough stories of inspiration to fill a book.
Whether it was for medicinal, psychological or physical reasons, the third annual spectacular which ended at the Casablanca Resort drew more than 400 competitors of all ages from 40 states.
From young kids to a pair of women in their 70s and 80s, this particular gathering not only filled hotel rooms but also brought invaluable exposure to Mesquite, which is situated 80 miles north of Las Vegas and is light years from the hubbub of the big cities.
Sporting a revised route from last year for the last few miles along with a great timing system operated by the team of Planet Ultra in St. George, the latest in a continual line of special events generated endless positive comments.
The overall winner of the 26.2 mile marathon which started in the wide open spaces of Utah on Highway 91 was 39 year-old Columbus, Ohio, physician Dave Giammar who had a time of two hours, 40.56 minutes.
"It was beautiful here," said Giammar, an outgoing doctor who admittedly runs from hospital to hospital when he's on duty. "This was run very well."
"There was lots of talk about the Mesquite Marathon. I saw it on http://www.marathon.com ."
An eight-year veteran of marathons who runs 30-40 miles a week, Giammar headed south down the hill on Highway 91, proceeded under I-15 and mastered a long stretch of canyons and hilly roads before completing his impressive performance inside the CasaBlanca Event Center.
St. George, Utah, resident Marcie Jacobsen won the women's marathon with a time of 3:03.23.
"I'm just addicted to running," said Jacobsen, the mother of a two-year-old son. "I love having a goal."
The energetic Jacobson echoed the comments of nearly everyone who said marathon running is simply good for all involved both physically and mentally. Add in picturesque weather conditions and the end result was a win-win for all involved.
Like so many others who accepted the challenge of the marathon, Jacobson said the sport is an ideal way to clear her mind.
"I have a million things going through my mind when I'm running," she said. "This is a great way to clear your mind."
Yet another fascinating story in the marathon was the multi-generational team of Mesquite resident Don Sand, 63; his son, David, 40; and his grandson Henry, 17.
The elder Sand, who now weighs 155 pounds, rebounded from a battle with prostate surgery while losing about 80 pounds. His son and grandson; who live in Corona, Calif., also combined to lose a total of 130 pounds.
"I just got tired of not feeling well," said Sand, "so I started running a year ago. We all needed to lose weight and running has been the best thing any of us could do."
The field also included two women both who could run circles around many people half their ages. Included were Carolyn Hathaway, 79, of Indianapolis, Ind., in the half marathon; and Dorothy Neary, 86, of Dillon, Colo., who ran the 5K.
"Last year was my first marathon," said Neary. "This keeps me healthy."
Then there was colorful Jim Madonna, 73, who drove 3,500 miles to Mesquite from Fairbanks, Alaska to compete in the half marathon.
"I'm a retired professor," Madonna explained, who ran in the old Tri-State Marathon several years ago. "When I retired, I had a choice to either go fishing or start running."
"I left on Sunday and arrived in Mesquite Thursday."
Cyndie Merten made the trek to Mesquite from Corvallis, Ore. She flew to McCarran International Airport in Las Vegas before driving to Mesquite in a rental car.
"I'm part of the Marathon Maniacs Club," said Merten, a 55 year-old software engineer who works in Eugene, Ore. "I finished my 52nd marathon in a year last week in Bothell, Wash., so that made me a Titanium Marathon Maniac."
Merten had a time of about 5 hours, 40 minutes in the 50-55 female marathon portion of the event. She then concentrated on the Valley of Fire Marathon a day later.
"Fifty-two miles is no big deal to me," she said. "Next weekend in Seattle, we are having four marathons in four days.
"Together they call this the Quadzilla and I'm ready for it. Just doing two of them this weekend is no big deal. This was my first trip to Mesquite and it's rainy and very cold in Seattle, so I appreciated the dry sunshine. And besides, there were a lot of desert flowers out today."
Mesquite Gaming Sporting Event Manager Christian Adderson lauded not only the event but the race directors and timing company Planet Ultra/Race Day Timing team of Brian and Debra Bowling of Planet Ultra in Washington, Utah north of St. George.
"We definitely hit a home run with this one," said Adderson, the brainchild behind several events each year that include Mesquite Motor Mania in January and the Smokin' in Mesquite BBQ Championship each Labor Day. "Everything went very smoothly.
"We had many return visitors to Mesquite thanks to the marathon. And you can bet that those who traveled here for the first time will be back."
Full results of the event can be found by visiting http://www.racedaytiming.com.
Next up on the Mesquite Gaming schedule is the first annual High Desert Robinson Regional & Mojave Desert Regional chili cook offs at the CasaBlanca Friday and Saturday.
Further information regarding Mesquite Gaming events can be found by visiting http://www.casablancaresort.com.
###