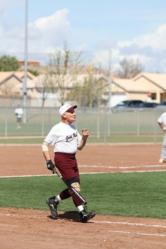 I love Mesquite and in fact, I call it "Little Big Town. I have always loved coming here.
Mesquite, Nevada (Vocus/PRWEB) March 30, 2011
It goes without saying that participants in the 2011 Spring Senior World Championships softball tournament playing in Mesquite and St. George are hearty souls. With a record field of teams sporting players ages 40-80, the collection of participants from several states had an added challenge this year.
Despite rainy weather at fields in St. George and Mesquite, the participants who traveled from outlying states were eager to play in the highly-regarded six-day tournament which concluded March 27 attracting about 1,000 players.
In fact, later in the day some 35 games had to be moved to Mesquite, where the rains quit and the skies opened up for the rest of the tournament.
The combination of the gray hairs in both participation and management of the tournament proved stellar for all who played a part in the annual event.
"This is actually the biggest senior's tournament of the spring," said Terry Hennessy, the CEO of Senior Softball USA. "We have more than 90 teams here from half a dozen states. These are some of the best teams in the country. What we're seeing with the baby boomers is an entirely different attitude about retirement. They love to be out there and they love the camaraderie. It's a big get together and they have of fun with it."
"They come for the weather and the fields here are very good. The fields in St. George are some of the best in the country and the ones in Mesquite are very good, too. The ones in St. George are natural and the ones in Mesquite are artificial."
"Softball is addictive," said 61 year-old Jeff Satterlee, the owner of Rezults Realty in Las Vegas; and the sponsor of a team by the same name. "You start playing at the age of 25 and you just don't stop."
For Satterlee, softball is the ideal relief from the real estate business that has seen its share of challenges during the most recent economic downturn.
"It grows on you; that's for sure," said Satterlee, who seems to thrive in the competition in both fields.
Publicist Jack Taylor, 65, also likes the exercise and friendship found in softball.
"I have been playing for 43 years," said Taylor, who is now the PR manager for Pala Casino and Resort in North San Diego County. "I play first base, catcher and outfield."
Leon Dillon, a 55 year-old Las Vegan playing for the Tucson Bandits, loves ever aspect of the sport.
"I like to compete and I love getting thrown out of a game after cussing out the umpire," joked Dillon, who works in Human Resources with Miller Beer in Las Vegas. "I have been playing senior softball for five years and we definitely take this seriously."
Isaac Barcelona sat under a roof at Hunter Park weighing the next move by his team called the Barcelona Bandits of Los Angeles which won the tournament in 2010.
"I love it," said the 62 year-old Barcelona. "You have to stay active. Just about everyone I know that retires and doesn't stay active dies. You cannot just lie around. This is fun doing this because it gets you out where you can become a Weekend Warrior."
Barcelona's team might best illustrate the dedication needed to participate since 13 players joined for the 400-mile trek to Mesquite from Southern California.
Mark Soloway, 61, made the trip from Denver to play for a team called Master Collision. If ever there were a great example of a testimonial for both Mesquite and the softball complexes utilized, it would have to be Soloway.
"I have been playing softball for 30 years," said Soloway. "I love Mesquite and in fact, I call it 'Little Big Town.' I have always loved coming here."
Soloway is such a believer in Mesquite that he also pitched the idea of pulling more tournaments away from other cities for competition in the city situated about 80 miles north of Las Vegas.
"Just look out there at the open spaces here," Soloway said. "I really think they should build more fields and start taking tournaments way from other places. If you build them, we will come. I can't tell you how many teams we have from Denver in this tournament, but I would bet there are eight or nine that have played. Everyone from Colorado loves coming here. How can you not love it when you have gaming, golf and softball and you have a great climate? The prices are great, too."
Tommy Ryan, 59, echoed the words of Soloway, who has been his buddy for many years.
"I really enjoy it here," said Ryan. "I'm still pretty good at softball and really get a kick out of some of the people who we play with or against. It takes me about 10 hours to get to Mesquite, but it's worth it."
Gary Pro, a 66 year-old resident of Las Vegas, was attending the tournament as a fan. Retired from the old Rio Hotel human resources department, he said he was in town to enjoy the event while also working to put another team together.
"This is a great tournament," said Pro. "The venue is perfect and the fields are much more user friendly here than in Vegas."
Glen Myers, a 61 year-old former basketball star at Clark High School who retired from the City of Las Vegas a few years ago, said he didn't want any part of sitting around after his days with the CLV were over.
"I didn't want to sit around and be a couch potato," laughed Myers. "This affords me a chance to stay active."
The tournament was in its third year in Mesquite after being lured away from Palm Springs, Calif. Teams were included from California, Nevada, New Mexico, Arizona and Colorado. The event was brought to Mesquite by Black Gaming Sporting Event Manager Christian Adderson.
"This is a great event," said Adderson. "The people who participate in the tournament are active, fun-loving folks who have the time of their lives in Mesquite. They're also very good softball players and we look forward to seeing them each year."
Further information regarding results from the 2011 event can be found at http://www.seniorsoftball.com or by calling Adderson at 888-711-4653, ext. 51. The SSUSA is the largest senior softball organization in the country.
###