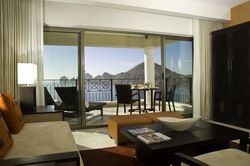 Cabo San Lucas, Baja California Sur, Mexico (PRWEB) March 25, 2009
Travelers heading to Cabo in 2009 receive up to a 35% discount on spacious ocean-view suites and daily breakfast at Casa Dorada Los Cabos, Resort & Spa, when booking the Online Super Saver vacation package . Casa Dorada's lavish one bedroom suites face Cabo's iconic Land's End Rock and offer a spacious terrace, ample living and dining areas, a kitchen, a bedroom with king-size bed, and a pull-out bed ideal for children. With the travel deal , one bedroom suites and daily breakfast at the resort, located on Playa Medano, are under $280 per night. In addition to the travel deal on accommodations, Casa Dorada's guests are always treated to a 25% discount at Cabo Real 18-hole Golf Course, one of the premier courses in Los Cabos known as the "Pebble Beach of Mexico"; complimentary children's activities at the resort's CasaKidz Playzone, open from 9 a.m. to 9 p.m. daily; a 20% savings at the new Wild Canyon Ekopark; free internet, and access to the fitness center and sauna and steam rooms. Through Dec. 18 2009, the Online Super Saver travel deal is available exclusively to travelers through the Casa Dorada Los Cabos ' website.
Los Cabos is at the tip of the Baja Peninsula, separated from Mexico's mainland by the Sea of Cortes. It is an oasis of tranquility, an almost mystical place where the drama is of nature, with its mountains, royal blue sea, and sand dunes. At the same time, the town of Cabo San Lucas offers a wide variety of dining, entertainment and shopping options and Casa Dorada is on the beach, a short walk or ride from these key visitor attractions.
Casa Dorada Los Cabos
Located on popular Playa Medano, Casa Dorada brings a new level of service, style and amenities to the heart of Cabo San Lucas. A member of Preferred Hotels® & Resorts, the resort has 186 deluxe ocean-view rooms and suites situated on five acres of beachfront property. East meets West in the 7,000-square-foot Saltwater Spa that features unusual offerings such as a Baoding Harmony Balls massage, a saltwater ritual and the Niparaja Ritual, a treatment that combines color therapy, aromatherapy and thalassotherapy (salt water) on a Nausicaa table. 12 Tribes restaurant at Casa Dorada is inspired by the legendary 12 Tribes of Israel. Executive Chef Fabian Rios has sourced close to 400 ingredients from 30 countries including Spain, Romania, Israel, Yemen, Ethiopia, Russia, France and more. With more than 60 different varieties of beer from the world available and ocean-front views of the iconic Land's End Rock, The B Lounge at Casa Dorada is the latest celebrity hotspot and place to "B" in Cabo San Lucas, Mexico. Casa Dorada also features a beachfront restaurant, private Beach Club and three swimming pools.
# # #