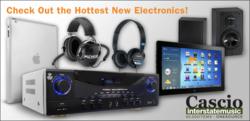 Our goal at the Consumer Electronics Show is to discover new trends and products which are both interesting and innovative for our customers.
New Berlin, WI (PRWEB) January 31, 2013
The 2013 Consumer Electronics Show in Las Vegas, January 8 - 11, showcased innovative technologies, amazing product displays and engaging events throughout the week. Michael Houser, CEO of Wisconsin-based musical instrument and home electronics retailer Cascio Interstate Music traveled to the annual show to explore the new products and prepare for 2013.
"Our goal at the Consumer Electronics Show is to discover new trends and products which are both interesting and innovative for our customers. This year's show did not disappoint. Since we are primarily a music-oriented company, we are looking for products and brands we can feature and introduce to our specific musician consumer base," said Houser.
Samsung's presence at the 2013 CES featured the keynote address of Dr. Stephen Woo, president of System LSI Business, Samsung Electronics' Device Solutions Division. He shared Samsung's vision on the role of components, the buildings blocks of all devices, in enabling tomorrow's consumer product innovations. "We at Samsung's component solutions are creating new, game-changing components across all aspects of devices," said Woo, sharing the company's vision of "Mobilizing Possibility." Samsung is developing energy-efficient LCD technology and displayed prototypes of flexible organic light emitting diode (OLED) displays, using bendable plastic instead of glass. Cascio Interstate carries Samsung tablets and computers.
Rapper 50 Cent's headphone company, SMS Audio, introduced new colors to his STREET by 50™ headphone line at the 2013 CES. These professionally tuned wired headphones are tough, rugged and durable — producing the clearest highs and deepest THUMPP Enhanced Bass™ for any genre of music. Cascio Interstate's selection of the line features 50 Cent's wireless headphones as well as earbuds. Also available, the DJ Pauly D Pro Performance model features two detachable cords (one for making phone calls, and a coiled DJ cord for extra length and durability), easy folding hinges and rotating ear cups, just right "for the DJ in all of us." Cascio also carries headphones from House of Marley, Koss, Sennheiser, Polk Audio, Sony, Fanny Wang, and more.
CES 2013 saw the introduction from many manufacturers of Ultra High-Definition or Ultra HD TVs, also known as 4K, which are 8-megapixel, 3,840 x 2,160 resolution displays. Price points of these are out of the reach of most, however, and it will be interesting to see how long the market will take to see prices fall, and to provide 4K Blu-ray content as well as 4K broadcasting. Many of today's movies are already shot natively in this format, and 4K TVs display current Blu-ray movies with a crisper and more colorful picture than HD. In the meantime, current HDTVs from Coby, JVC, LG, Panasonic and Toshiba are available from Cascio Interstate's website.
Cascio Interstate now offers Western Digital hard drives. WD is a long-time leader in hard drive technology, and designs and manufactures the #1 selling internal and external hard drives and award-winning media players and network drives. Western Digital's My Book Live drives are marketed as "Personal Cloud Storage," enabling the home user to connect the drive to a wireless router to provide shared storage and wireless backup for all of the PC and Mac computers on the home network. Mac, Windows 8, Windows 7 and Windows Vista computers will automatically find the My Book Live drive in seconds. WD's mobile apps allow for easy access with a smartphone or tablet … giving the user more terabytes of extra storage for their mobile device.
Cascio Interstate carries a wide range of Monster Cable products, including cable for microphone, instrument and computer needs, FM transmitters, plus Video/TV/HDMI cable and surge suppressors. Monster is now the world's leading manufacturer of high performance cables that connect audio/video components for home, car and professional use as well as computers and computer games. Monster Cable is an indispensable component for music lovers, audiophiles, recording studios, sound professionals, musicians, custom-installers and home theater enthusiasts.
Accessories for the mobile market continue to grow and are available from Cascio as well, ranging from iPod and other smartphone screen protectors, cases and docks, to iPad and other tablet cases, covers and keyboards. Brands Cascio carries in this category include Speck, Kate Spade, iFrogz, Memorex, STM Bags, Kensington, Griffin and more.
Cascio Interstate Music is among the nation's top independent musical instrument retailers, and is the 12th largest musical instrument dealer in the United States. Cascio celebrated 66 years as a music retailer in 2012, and is headquartered in New Berlin in suburban Milwaukee, Wisconsin, which houses its call center, web center and corporate offices. Its distribution center in Waukesha, Wisconsin handles over 60,000 items, including consumer electronics items, available online only. More information on the Company is available on their website.