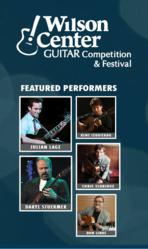 This is a great way for guitarists to showcase their talents, gain recognition and qualify for great cash prizes.
New Berlin, WI (PRWEB) April 17, 2013
The Sharon Lynne Wilson Center for the Arts in the Milwaukee suburb of Brookfield, Wisconsin, will present their first annual Guitar Competition & Festival from Thursday, August 15 through Saturday, August 17. The weekend will include a competition, free master classes and clinics, as well as concerts.
The competition portion of the weekend is open for guitarists 15-30 years of age. Four musical genres will be represented – Rock/Blues, Fingerstyle, Jazz & Classical. The first place winners in each category will earn a $3,000 cash prize, will receive a featured solo performance during the Wilson Center's 2013-2014 Season, and will also perform as the opening act for Daryl Stuermer of Genesis, on Saturday, August 17, 2013 at 7 pm. The Wilson Center's website gives complete details on official rules, repertoire requirements, and the application. The initial round of judging will take place via video submission on YouTube. Submission deadline is May 31, 2013.
The event's supporting promotional sponsor is Milwaukee-area music retailer Cascio Interstate Music, Wisconsin's largest music store and the 12th largest musical instrument retailer in the nation. Cascio CEO Michael Houser states, "When we were approached by the Wilson Center about helping support this guitar event, we were enthusiastically committed to being a part of it. This is a great way for guitarists to showcase their talents, gain recognition and qualify for great cash prizes."
Cascio's involvement in the Milwaukee music community has included concert sponsorships at area theaters and venues, sponsorship of a stage for local/regional bands at Summerfest, (the world's largest outdoor music festival), a drumline with the NBA's Milwaukee Bucks, and free clinics at their New Berlin retail store. Houser adds, "It is an exact fit to what we believe in, which is to support musical missions throughout our communities, especially in our hometown."
Cascio's store and website offer electric and acoustic guitars, with the area's largest in-stock selection of top brands including Martin, Taylor, Archer, Yamaha, Lâg, Ibanez, Fender and more, along with guitar amps and accessories, drums, wind and string instruments, and numerous other items.
Featured evening performances at the Wilson Center will be jazz guitarist Julian Lage & Chris Eldridge of the Punch Brothers on Thursday, internationally renowned classical guitar soloist Rene Izquierdo and esteemed jazz guitarist and educator Don Linke on Friday, and Daryl Stuermer of Genesis/Phil Collins on Saturday. Concerts will all be free of charge to competitors. For the general public, tickets for all three festival performances are available on the Wilson Center's website. The event is sponsored locally by the Brookfield Convention and Visitors Bureau and Enterforce, Inc. For additional information, call (262) 439-5681 or email wcguitarcompetition (at) gmail (dot) com.
The Sharon Lynne Wilson Center for the Arts is a beautiful performing and visual arts and education facility nestled in Brookfield, Wisconsin's Mitchell Park that opened its doors in 2002. Located just 20 minutes west of downtown Milwaukee, the Wilson Center serves as a bridge for the arts by connecting communities, linking arts organizations, and fostering a collaborative spirit that helps keep the arts alive and growing in Southeast Wisconsin. The Wilson Center is nestled inside Brookfield's Mitchell Park on Mitchell Park Drive. Mitchell Park Drive is just south off Capitol Drive, between Brookfield Road and Barker Road.
Cascio Interstate Music is among the nation's top independent musical instrument retailers, and is the 12th largest musical instrument dealer in the United States. Cascio will celebrate 67 years as a music retailer in 2013, and is headquartered in New Berlin in suburban Milwaukee, Wisconsin, which houses its call center, web center and corporate offices. Its distribution center in Waukesha, Wisconsin handles over 75,000 items, including consumer electronics items, available online only.