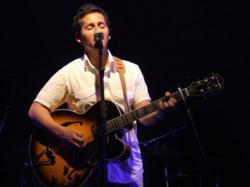 For a pledge of $1,000, a personally autographed guitar, his Jazz Archtop from Archer Guitars of Milwaukee, WIsconsin.
New Berlin, WI (PRWEB) December 01, 2012
Folk/roots pop singer/songwriter Josh Rouse and his team are asking fans via PledgeMusic.com to help play a role in his upcoming album, "The Happiness Waltz," to be released in the spring of 2013 on Rouse's Bedroom Classics label. It will be his 10th full-length release, recorded in his Spanish hometown of Valencia. In return, Josh is offering fans "an array of thoughtful packages and experiences surrounding this new album" corresponding to various pledge amounts.
10% of any money raised after the goal is reached will go to Action Against Hunger. Recognized as a leader in the fight against malnutrition, Action Against Hunger | ACF International saves the lives of malnourished children while providing communities with access to safe water and sustainable solutions to hunger. ACF runs life-saving programs in some 40 countries benefiting five million people each year.
PledgeMusic is a platform providing artists the resources they need to build successful long-term careers. Their direct-to-fan model fuses advanced technologies and social media techniques with decades of music business expertise, to create the most effective music fundraising, marketing, and sales tool in the world. For Josh Rouse, it's specifically "with the aim of raising the profile around this release and extending our reach with our marketing and touring efforts in the new year."
At PledgeMusic's Josh Rouse project page, a $10 pledge offers fans a download of the new album, and higher amounts offer fans the download plus various unique items … including, for a pledge of $1,000, a personally autographed guitar, his Josh Rouse 1972 Signature Electric Guitar Jazz Archtop from Archer Guitars of Milwaukee, Wisconsin. "1972" refers to Rouse's 2003 release of the same name, the year he was born. Fans can even pledge $5,000, enabling Josh to do a live solo concert at a fan's home.
It was very important for Archer Guitars to create a model that reflects Josh Rouse's music. Rouse has the unique ability to recreate a vintage sound for a new generation of listeners. Similar to Josh Rouse's music, the aesthetics of this guitar reflect modern standards, yet it has the sound of a traditional electric archtop. Archer created this guitar along the lines of jazz series models, intending to provide true value at the intermediate level, or completely worthy of being used live or in the studio by any pro guitarist.
The single cutaway guitar features twin Performance Studio Level pickups, an arched laminated flamed maple top, deluxe art deco tuners, a maple body and set neck, a rosewood fingerboard, custom shop Abalone Archer in-laid logo, JR initialed back headstock, D'Addario strings, and special 1972 truss cover, all combined in a select tobacco sunburst finish. The Archer Josh Rouse 1972 Signature Guitar has been used on the road and in the studio by Josh everywhere - from Brazil to Stockholm!
Throughout Josh Rouse's career, this singer/songwriter has had the unique ability to recreate a vintage sound for a new generation of listeners, and has toured with artists such as Guster and John Mayer. Born in Nebraska and later settling in Nashville, Rouse was signed to the Rykodisc subsidiary Slow River in 1998 and made his debut album, "Dressed Up Like Nebraska." Other albums have included "Home," "Bedroom Classics, (Vol. 1 & 2)," "1972," and "Nashville," "The Best of the Rykodisc Years," and "El Turista." Visit his website at http://www.joshrouse.com.
Josh also uses Fender guitar amps and Shure microphones, all available from Archer's authorized dealer center, Cascio Interstate Music. This online musical instrument store is a nationwide retailer for all major brands, a great place to buy drums, keyboards, guitars, and recording gear.
Milwaukee-based Archer Guitars, USA offers acoustic, electric, and electric bass guitars for musicians worldwide. They also offer Artist Signature models including the Josh Rouse 1972 Signature Guitar, Jazz Archtop Model JR1972-T, and the K Sulton Signature Bass Guitar for journeyman and session bassist Kasim Sulton, a member of Todd Rundgren's touring band, as well as Utopia. Archer Guitars are modified and customized at Cascio Interstate Music in Milwaukee, the official authorized dealer center in the USA. Please visit http://www.archerguitars.com for the entire lineup of Archer models.
Cascio Interstate Music is among the nation's top independent musical instrument retailers, and is the 12th largest musical instrument dealer in the United States. Cascio celebrates 66 years as a music retailer in 2012, and is headquartered in New Berlin in suburban Milwaukee, Wisconsin, which houses its retail superstore (consistently voted Milwaukee's Best Music Store), call center, web center and corporate offices. Its distribution center in Waukesha, Wisconsin handles over 60,000 items. More information on the Company is available at http://www.interstatemusic.com. Visit their Facebook Page at http://www.facebook.com/interstatemusic.