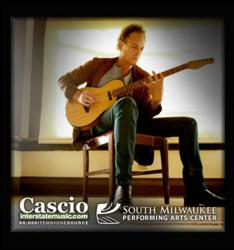 Cascio is offering a chance for Buckingham fans to register online to win two free tickets to this amazing show.
New Berlin, WI (PRWEB) November 05, 2012
Guitarist Lindsey Buckingham of Fleetwood Mac will be performing live at the South Milwaukee Performing Arts Center, 901 15th Avenue, South Milwaukee, WI, on Saturday, November 17 at 8:00 pm. Supported by Milwaukee music store Cascio Interstate Music, Cascio is offering a chance for Buckingham fans to register online to win two free tickets to this amazing show at http://www.interstatemusic.com/Contest/58-Lindsey-Buckingham-Ticket-Giveaway.aspx. Deadline for entry is Friday, November 9th.
In his intimate-one-man show, Lindsey will showcase his distinctive guitar picking style and instantly recognizable voice in his usual awe-inspiring form, captivating his audience with songs from his recent album, SEEDS WE SOW, as well as performing a combination of favorites from his previous solo albums, along with a variety of Fleetwood Mac classics.
Lindsey Buckingham has earned a spot in the Rock & Roll Hall of Fame with Fleetwood Mac, won countless awards, and helped define the sound of rock for the last three decades. He's the predominant musical force behind such Mac albums as Rumours and Tusk, and has created a critically acclaimed body of solo work that yielded hits, "Trouble," "Go Insane," and "Holiday Road." In 2011, Buckingham was ranked 100th in Rolling Stone magazine's 2011 list of "The 100 Greatest Guitarists of All Time."
Lindsey plays on products that Cascio Interstate Music carries at their New Berlin, Wisconsin Music SuperStore and online at http://www.interstatemusic.com. Some of the acoustic guitars he uses are the Taylor 814ce and Martin D-18, and one of his electric guitars is the Fender Stratocaster®. On his instruments he prefers strings from D'Addario and Ernie Ball. Buckingham uses the Mesa/Boogie® Dual Rectifier 100-watt Amp Head to deliver the sound he wants. Powering his Boss Pedals is the Voodoo Labs Pedal Power AC unit.
The South Milwaukee Performing Arts Center's (SMPAC) mission is to enrich the community by providing creative, innovative and diverse performing arts and life-long learning experiences, as well as a professionally managed facility for community and regional organizations. The SMPAC was built in 2004 as part of the new South Milwaukee High School. As part of the School District of South Milwaukee (SDSM), the SMPAC serves as the home for school concerts, plays, musicals, awards ceremonies and meetings.
The SMPAC boasts a 786-seat theatre with a classroom-sized orchestra pit and expansive stage. It features state-of-the-art lighting and sound systems, 23-line set rigging system, projector and video screen.
Cascio Interstate Music is among the nation's top independent musical instrument retailers, and is the 12th largest musical instrument dealer in the United States. Cascio celebrates 66 years as a music retailer in 2012, and is headquartered in New Berlin in suburban Milwaukee, Wisconsin, which houses its retail superstore (consistently voted Milwaukee's Best Music Store), call center, web center and corporate offices. Its distribution center in Waukesha, WI handles over 60,000 items.
Cascio Interstate Music offers a wide selection of products via its shopping website and Milwaukee music store, with musical instruments ranging from drums to guitars to wind instruments, accessories, DVDs & music songbooks. Musicians and parents in southeastern Wisconsin look to Cascio Interstate for Milwaukee music lessons, free in-store educational clinics, musical instrument rentals, instrument repair, and more. More information on the Company is available at http://www.interstatemusic.com.