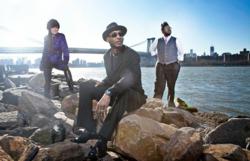 Omar Hakim is one of the most successful drummers and session men of the past thirty-five years.
New Berlin, WI (PRWEB) December 31, 2012
Legendary drummer Omar Hakim (Weather Report, Miles Davis, David Bowie, Sting), GRAMMY® Award-winning pianist extraordinaire Rachel Z (Wayne Shorter, Stanley Clarke, Peter Gabriel), and bassist Solomon Dorsey (Stevie Wonder, Bobby Watson) are The Trio Of OZ, a group that released their debut, self-titled album in 2010. The Trio Of OZ brings their tour to the greater Milwaukee area, performing at the Sharon Lynne Wilson Center for the Arts, 19805 W. Capitol Drive in Brookfield, Wisconsin on Saturday, February 9, 2013 at 8:00 pm. They fuse rock, jazz, and jam into a must-hear musical statement, creating a legion of fans wherever they play.
The Trio of OZ takes the audience on a magical journey performing groundbreaking arrangements of notable rock music from such bands as the Killers, Depeche Mode, Death Cab for Cutie and the Police. With an unparalleled reputation for musical virtuosity, groove, heart and soul, The Trio of OZ is a unique musical experience for rock, jazz and jam lovers.
Drummer Omar Hakim will also appear earlier that day, with an In-Store Appearance and Q&A at 1:00 pm on Saturday, February 9 at Cascio Interstate Music SuperStore, 13819 W. National Ave. in New Berlin, WI. Sponsored by Cascio and Pearl Drums, this will be a great opportunity for fans and drummers to chat, "talk drums" and ask questions of Omar. He may also demonstrate a technique or two on the drum set. Cascio is Wisconsin's largest music retailer, with a large in-store Drums and Percussion department, nationwide Drum Catalog, and an internet presence. Cascio is also the media sponsor for the concert at the Sharon Lynne Wilson Center, and is offering an online ticket giveaway.
Widely acclaimed for his versatility, technological prowess and groove, Omar Hakim is one of the most successful drummers and session men of the past thirty-five years. Omar has collaborated with dozens of prominent artists including George Benson, Lionel Richie, Chaka Khan, Anita Baker, Bobby McFerrin, John Scofield, Urban Knights, Bruce Springsteen, Michael Jackson, Celine Dion, Jewel, J-Lo, D'Angelo, Mariah Carey, and Madonna to name a few, and has left his imprint on hundreds of recordings including several under his own name.
Cascio Interstate Music carries the products that Omar plays, including Pearl Drums, Zildjian Cymbals and Roland V-Drums. They also carry several products that bear Omar's signature.

Cascio Interstate Music is among the nation's top independent musical instrument retailers, and is the 12th largest musical instrument dealer in the United States. Cascio celebrated 66 years as a music retailer in 2012, and is headquartered in New Berlin in suburban Milwaukee, Wisconsin, which houses its retail superstore (consistently voted Milwaukee's Best Music Store), call center, web center and corporate offices. Its distribution center in Waukesha, Wisconsin handles over 60,000 items. More information on the Company is available on their website.