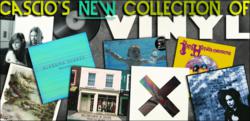 ... we felt it was a natural move for us to introduce vinyl to our musician customers.
(PRWEB) May 31, 2013
Cascio Interstate Music continues to expand their product offerings of products and brands that can be featured and introduced to their specific musician-oriented consumer base. Cascio now offers vinyl records in many genres, available online only on their website. Vinyl albums are available ranging from rock classics to indie titles to some of today's music available in the classic 33-1/3 format. 
Cascio Interstate carries many of 2012's top-selling vinyl albums, releases that rank highly according to The Nielsen Company & Billboard's 2012 Music Industry Report. These include Jack White's "Blunderbuss," Mumford & Sons' "Babel" as well as "Sigh No More," "Beach House" by Bloom, "Boys & Girls" from Alabama Shakes, Adele's best-selling "21," plus Bon Iver's self-titled album "Bon Iver."
Other vinyl records that sell well include "Duquesne Whistle" from Bob Dylan, "Barton Hollow" from Civil Wars, John Frusciante's "Pbx Funicular Intaglio Zone," Smashing Pumpkins' "Mellon Collie & the Infinite Sadness," "Back to Black" from Amy Winehouse, "Scepter Studios Acetate" from The Velvet Underground, as well as "Lonerism" from Tame Impala, "Pet Sounds" from the Beach Boys, Frank Zappa's "Why Don'tcha Do Me Right," John Coltrane's "Love Supreme," and the soundtrack from the Swedish-British documentary film "Searching for Sugar Man," featuring the music of Sixto Rodriguez.
Cascio Interstate's CEO Michael Houser says, "As we have continued to watch vinyl album sales increase over the past several years, as well as the enormous success of the worldwide Record Store Day, we felt it was a natural move for us to introduce vinyl to our musician customers. They're really natural audiophiles and appreciate the pure quality and original sound 'warmth' and authenticity of vinyl."
Along with the vinyl records on its website, Cascio Interstate also carries turntables online from various brands including Music Hall and Audio-Technica, for the audiophile looking for the best in analog sound. Cascio also carries additional home audio equipment needed to make these discs come alive, with popular brands like Yamaha Home Audio, Klipsch, Polk and others.
Vinyl records have been the fastest growing format in the music industry recently. Vinyl album sales in the United States for 2012 rose to 4.6 million units, up from 3.9 million in 2011, according to the Nielsen Co. SoundScan and Billboard's 2012 Music Industry Report. The International Federation of the Phonographic Industry also reported that vinyl sales reached $171 million worldwide in 2012, compared with $53 million in 2007, just five years ago.
Record Store Day was conceived in 2007 at a gathering of independent record store owners and employees as a way to celebrate and spread the word about the unique culture surrounding over 700 independently owned record stores in the US and thousands of similar stores internationally. This is the one day that all of the independently owned record stores come together with artists to celebrate the art of music. Special vinyl and CD releases and various promotional products are made exclusively for the day and hundreds of artists in the United States and in various countries across the globe make special appearances and performances.
Cascio Interstate Music is among the nation's top independent musical instrument retailers, and is the 12th largest musical instrument dealer in the United States. Cascio will celebrate 67 years as a music retailer in 2013, and is headquartered in New Berlin in suburban Milwaukee, Wisconsin, which houses its call center, web center and corporate offices. Its distribution center in Waukesha, Wisconsin handles over 75,000 items, including consumer electronics items, available online only.