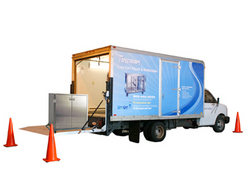 Stow, OH (PRWEB) February 23, 2010
Spectrum Surgical Instruments Corp. is pleased to provide on-location Case Cart Repair and Restoration services. Any make, any type, and any model case cart can be completely refurbished by Spectrum's certified technicians in their dedicated on-location repair lab. Spectrum's service capabilities include inspection, lubrication, minor or major adjustments, replacement of shelves, bumpers, latches, doorstops, nuts, bolts, hinges, and caster repair or replacement. The company utilizes only stainless steel replacement parts and can also repair IV poles, mayo stands, autoclave racks and more. Spectrum is a national GPO contracted vendor and offers the lowest cost repair pricing in the industry. Open seven days-per-week, 365 days-per-year, Spectrum provides fast turnaround and emergency service.
Spectrum Surgical:
Spectrum Surgical has been providing a full line of surgical instruments for Human and Animal Health since 1982. Spectrum is a leading provider of surgical instrument repair, sharpening and restoration. Spectrum Surgical provides surgical equipment to surgery centers and veterinary centers across the United States.
For more information, please contact Spectrum's Case Cart Repair Manager, Tom Pecka, at 800-444-5644.
###