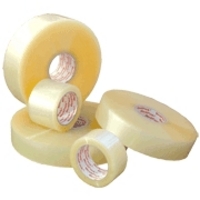 Rancho Cucamonga, CA (Vocus) May 25, 2010
BestPack.com, a world leader in sophisticated packaging systems, is now adding BL16 and BP17 carton sealing tape to their line-up of high quality products. Although the BL16 tape is only 1.6 mil thick, it offers the same performance as a 1.8 mil roll. Since it is priced as low as a typical 1.6 mil tape, BL16 carton sealing tape offers great value and is one of the highest performing tape options in BestPack's line. Known for their high quality film, BestPack is implementing a new22 micron cast film with 28 micron adhesive, making it comparable to other thicker carton sealing tapes. Business owners can save money on carton sealing tapes by purchasing one of BestPack's new, low priced, high performing products.
The BP17 tape is BestPack's new high performance machine length roll. Offered in a variety of sizes, the BP17 carton sealing tape has a total tape thickness of 1.7. The BP17 tape uses BestPack's renowned low-stretch film to create a low cost, but high performance, machine length roll of tape capable of handling high recycled content boxes. More specifically, the BP17 has found much success in the garment industry where high recycled content packaging is often used.
Furthermore, BestPack has decided to continue its Inflation Buster and Free Tapehead promotions. Through June 30, 2010, businesses can purchase heavy duty manual bottom drive (MBD) case sealers for $2,500. BestPack's heavy duty MBDs feature new compression rollers and a centering guide for a consistently tight seal. BestPack's heavy duty MBDs can also seal as many as 30-50 boxes per minute, saving companies both time and money. The company is also offering customers a free tapehead for every purchase of a BestPack case sealer with a pallet of carton sealing tape.
While the company's top packaging equipment products are case sealers, BestPack has just earned national success for its complete line of carton sealing tape, which boast of a broad temperature range while maintaining a consistent film quality. Perfect for the pharmaceutical and medical industries, BestPack's hot melt and acrylic carton sealing tapes have high temperature flexibility and are manufactured in an ISO 9001 and 14001 facility, contributing greatly to its success. Sign up now for the company's newsletter or visit BestPack's official blog for packaging tips and updates.
AboutBestPack.com
Based in Rancho Cucamonga, CA, BestPack is the industry leader in packaging equipment machinery, case sealers, carton erectors and packaging tape. Also providing customized packaging solutions, BestPack is one of the most reliable and dependable manufacturers of all product packaging systems. This press release is produced by Cybertegic.com- an Internet marketing services agency that specializes in search engine optimized press release marketing (SEO marketing).
# # #