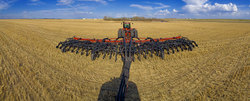 The patented parallel link row unit and knife opener on the Precision Hoe 800 work together to accurately place seed and fertilizer at the right depth, ensuring every seed reaches its potential.
Racine, WI (PRWEB) June 17, 2009
Case IH, a global farm equipment manufacturer, is adding the Precision Hoe™ 800 air hoe drill to its lineup of seeding equipment. With two new patented features - a parallel link row unit and angled, double-shoot knife opener - the Precision Hoe 800 delivers the precision seed and fertilizer placement demanded by producers growing canola, wheat and other high-value, small-seeded crops on large acreages.
"Controlling seed placement is critical to a plant's strong, healthy emergence and establishment. Seed too deep, and the seed may use up its energy stores just to emerge, or not germinate at all," says Dale Simpson, Case IH marketing manager for seeding. "The patented parallel link row unit and knife opener on the Precision Hoe 800 work together to accurately place seed and fertilizer at the right depth, ensuring every seed reaches its potential."
Farmer-driven design
Just as they do before designing or improving any piece of equipment, Case IH engineers asked customers what advancements they'd make to air drills currently on the market. "We listened, learned and made significant improvements before introducing ours," Simpson explains.
"Unlike other competitive designs that use a trailing arm, the parallel link arm row unit improves on what customers told us they need in a precision hoe drill: better depth control, better seed and fertilizer placement, and ultimately, better stands - in uneven field conditions and tough no-till residue," he adds.
Case IH customers also put a high priority on wide working widths and narrow transport widths. According to Simpson, "That's precisely what the Precision Hoe 800 delivers, thanks to its innovative fold-back frame."
Advanced opener technology
The patented parallel link row unit maintains opener depth, from the top to the bottom of its entire 16 in. (9 in. up and 7 in. down) range of motion. Depth can be adjusted in 1/8 in. increments for accurate, consistent seed placement across the field.
Another advantage of the parallel link design: it accurately maintains the angle at which the patented, double-shoot knife opener engages the ground, preserving 1- to 1.5-inches separation between the seed and fertilizer bands for worry-free accuracy. "That's key to precision seed placement," says Gord Engel, Case IH product manager for seeding. "Because the relationship between the knife and the press wheel doesn't change throughout the entire range of motion, you get better seed placement vs. a trailing arm row unit."
In addition, the unique single shank design - which delivers both seed and fertilizer on the opener - reduces the number of shanks by half on each row unit. Fewer shanks mean better residue flow, fewer opportunities to drag residue and fewer stops to unplug.
"As residue becomes heavier and tougher with new genetics and higher yields, the Case IH single shank design excels," Engel notes.
Wide working width, narrow transport width
The Case IH Precision Hoe 800 is available in 50 ft., 60 ft. and 70 ft. working widths. All three working widths are available in 10- or 12-in. row widths, and capable of operating with tow-between and tow-behind air systems.
"Growers can cover more acres in less time, and optimize productivity during their limited planting window," Engel says. "Quick folding and unfolding for transport, and good visibility during transport also help farmers make the most of their time."
Engel adds that all three configurations have a narrow 17-ft.-8-in. transport width, and a transport height of just 16 ft. 6 in. "All models use a similar fold-back frame design as the Case IH Flex Hoe 700, offering industry-leading transport width and height for the size of these drills," he adds. "As the drill gets wider to cover more ground in the field, it just gets longer in transport. And it'll fit inside a machine shed for winter."
Other Case IH advantages
Every Case IH Precision Hoe 800 is equipped with ISO BUS electronic controls. "So if you've already purchased an AFS® Pro 600 monitor for your Case IH tractor, you can control everything - including the various drill functions, even fold and unfold - from the comfort of your cab," Simpson notes.
Another advantage of running red, according to Simpson, is the convenience and reliability of a Case IH product and support system. "The Precision Hoe 800 is perfectly matched with our industry-leading Case IH Precision Air air carts, which are recognized for their superior seed metering accuracy," Simpson says. "Couple those with a Case IH Steiger® or Quadtrac® tractor with AFS guidance and ISO seeding controls, and you have an accurate, productive, reliable system that works seamlessly together over long hours, and across big acres. That's the Case IH Systems approach. That's what Case IH customers demand."
Case IH is a global leader in agricultural equipment, committed to collaborating with its customers to develop the most powerful, productive, reliable equipment - for those who demand more. With headquarters in the United States, Case IH has a network of dealers and distributors that operates in over 160 countries. Case IH provides agricultural equipment systems, flexible financial service offerings and parts and service support for professional farmers and commercial operators through a dedicated network of professional dealers and distributors. Productivity enhancing products include tractors; combines and harvesters; hay and forage equipment; tillage tools; planting and seeding systems; sprayers and applicators; and site-specific farming tools. Case IH, is a brand of CNH (NYSE: CNH), a majority-owned subsidiary of Fiat Group (FIA: MI).
For more information, call 1-877-4CASEIH or visit us on the World Wide Web at http://www.caseih.com.
# # #