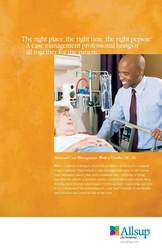 Belleville, Ill. (Vocus) September 29, 2010
As the complexity of the healthcare system increases, the role of case managers becomes even more significant, according to the Case Management Society of America. During National Case Management Week, Oct. 10-16, 2010, the CMSA and other organizations, including Allsup, are helping to increase awareness about the crucial care-giving role played by case managers in the medical community. Allsup is a nationwide provider of Social Security disability representation and Medicare plan selection services.
Case managers provide support to patients and families navigating the healthcare system, they also help decrease the fragmentation of services and encourage communication among health professionals on a patient's team of care providers. The CMSA is emphasizing this year's theme, "One Passion…One Goal…Many Talents: Case Management is the Critical Connection to Optimal Health Care."
Case managers devote hours of time, plus expertise and dedication to supporting individuals, family members and caregivers who seek their help and intervention. In turn, CMSA helps support case managers with a variety of tools and resources, including its newly revised 2010 Standards of Practice issued earlier this year. The organization also provides its "Senior Service Finder" with a database of 60,000 senior housing facilities and home healthcare providers nationwide.
As the healthcare industry continues to grow in complexity, the CMSA is committed to advancing case managers' profession, emphasizing professional standards, integrity and quality care.
The week of Oct. 10-16 provides an opportunity to recognize and celebrate case managers' involvement and instrumental role in providing quality healthcare to patients nationwide. Nationally, case management professionals work in a variety of settings, including government agencies, long-term care facilities, insurance and health maintenance organizations, nonprofits, rehabilitation facilities and other settings.
Allsup is saluting case management professionals during National Case Management Week with free posters available to case managers, clinics and other community groups by calling Karen Hercules-Doerr at (800) 854-1418, ext. 5770.
Media contact:
Case Management Society of America
Robert Pruss
(501) 225-2229
rpruss(at)acminet(dot)com
http://www.cmsa.org
Free posters:
Allsup
Karen Hercules-Doerr
(800) 854-1418, ext. 5770
k(dot)hercules-doerr(at)allsupinc(dot)com
http://www.allsupcares.com
###